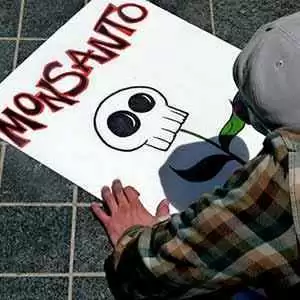 Caption: Image: CC-Benjah_BMM27
Celiac.com 04/03/2014 - Since the introduction of glyphosate-based herbicides, like Roundup, by Monsanto in the 1970s, celiac disease levels have increased 400%. Could these herbicides play a significant role in driving the autoimmune condition that is celiac disease?

A team of independent researchers claims that data show glyphosate, the active ingredient in the herbicide, Roundup, to be the most important causal factor in epidemic rises in celiac disease levels.
Their paper on the subject is called Glyphosate, pathways to modern diseases II: Celiac sprue and gluten intolerance, and it may be read in its entirety in Interdisciplinary Toxicology.
Some interesting tidbits from their paper include:
Celiac.com 04/03/2014 - Fish exposed to glyphosate develop digestive problems that are reminiscent of celiac disease. Celiac disease is associated with imbalances in gut bacteria that can be fully explained by the known effects of glyphosate on gut bacteria.
Characteristics of celiac disease point to impairment in many cytochrome P450 enzymes, which are involved with detoxifying environmental toxins, activating vitamin D3, catabolizing vitamin A, and maintaining bile acid production and sulfate supplies to the gut.
Glyphosate is known to inhibit cytochrome P450 enzymes. Deficiencies in iron, cobalt, molybdenum, copper and other rare metals associated with celiac disease can be attributed to glyphosate's strong ability to chelate these elements.
Deficiencies in tryptophan, tyrosine, methionine and selenomethionine associated with celiac disease match glyphosate's known depletion of these amino acids.
Celiac disease patients have an increased risk to non-Hodgkin's lymphoma, which has also been implicated in glyphosate exposure.
Reproductive issues associated with celiac disease, such as infertility, miscarriages, and birth defects, can also be explained by glyphosate.
Glyphosate residues in wheat and other crops are likely increasing recently due to the growing practice of crop desiccation just prior to the harvest.
The researchers argue that the practice of "ripening" sugar cane with glyphosate may explain the recent surge in kidney failure among agricultural workers in Central America.
They conclude with a plea to governments to reconsider policies regarding the safety of glyphosate residues in foods.
The repost offers compelling data to support the claim, and certainly the report will receive a great deal of attention, but it remains to be seen how much provable evidence the report contains.
There's an old saying that extraordinary claims require extraordinary evidence. The claim that Monsanto's glyphosate-based Roundup is driving global rates of celiac disease is an extraordinary claim. As such, more than circumstantial evidence, however compelling, will be needed to prove this claim one way or the other.
Doubtless, this is a story that merits close scrutiny. Stay tuned to see what specific evidence, if any, can be offered in support of the assertions about the data made by the researchers.
Source: