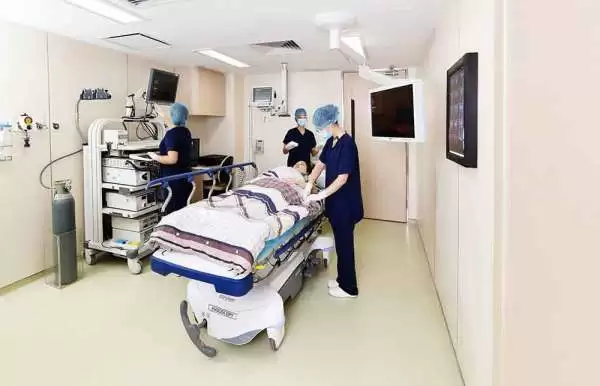 Caption: A patient is prepared for an endoscopy. Image: CC BY-SA 4.0--Peggy.poon
Celiac.com 05/07/2020 - Seronegative villous atrophy (SNVA), raised intraepithelial lymphocytes (IELs) and crypt hyperplasia on duodenal histology can be caused by celiac disease or by drugs or infections.
A team of researchers recently set out to assess the role of small-bowel capsule endoscopy (SBCE) in these patients and to determine SBCE findings at diagnosis can predict disease outcome.
---
Celiac.com Sponsor (A12):


---
---
Celiac.com Sponsor (A12-m):


---
The research team included Stefania Chetcuti Zammit, Annalisa Schiepatti, Imran Aziz, Matthew Kurien, David S. Sanders, and Reena Sidhu. They are variously affiliated with the Academic Unit of Gastroenterology, Royal Hallamshire Hospital, Sheffield, UK, and the Academic Unit of Gastroenterology, Department of Infection, Immunity & Cardiovascular Disease, University of Sheffield Medical School, Sheffield.

The team assessed 177 patients with SNVA, IELs +/-crypt hyperplasia on duodenal histology. These patients all had an equivocal diagnosis of celiac disease.

About one in three patients had a positive SBCE. Most patients had disease affecting the proximal third of the small bowel. All patients in the SNVA-celiac disease group who later developed poor outcomes had a positive SBCE. 

These patients also showed much more widespread small bowel disease than those with no adverse incidents. More-extensive small bowel disease on SBCE was associated with a higher SNVA-related deaths in patients with SNVA-UO and SNVA-celiac disease. 

Interestingly, severity of gut damage did not correlate with mortality, meaning that it's possible to recover and become healthy.

Overall, the team found that positive SBCE at diagnosis corresponds to a worse celiac disease outcome. Crucially, widespread disease in these patients is associated with poor survival rates. Spotting and aggressively treating patients with extensive disease at diagnosis can improve outcomes for many of these patients.

Read more at: Gastrointestinal Endoscopy