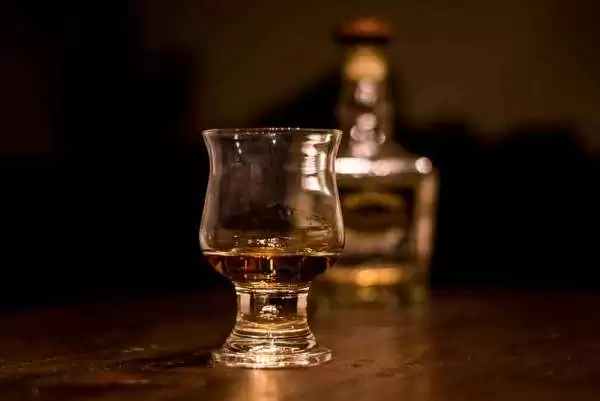 Caption: Whiskey is something that some celiacs don't want to give up. Image: CC BY-SA 2.0--Fabian Greiler
Celiac.com 03/21/2020 - Can people with celiac disease safely drink whiskey, or other grain alcohol? This is one of the questions we still see a great deal, even though we've published a number of articles and lists about gluten-free alcoholic beverages, including whiskey. 
There are two answers to this question, which reflects two different viewpoints and two different sets of criteria.
Distillation Removes Gluten
---
Celiac.com Sponsor (A12):


---
The first answer is that all distilled beverages are regarded as gluten-free by the American Dietetic Association, and by the overwhelming consensus among scientists and celiac disease experts. This is true, the reasoning goes, because the process of distillation removes any gluten molecules from the resulting liquid. That's true even for whiskey, gin, and grain vodkas that are made from gluten-containing ingredients. Unless, gluten is added back into a product after distillation, then the end result of distillation is gluten-free product. As such, most whiskies, gins, and vodkas distilled from grains are safe for people with celiac disease. 

From the Jack Daniels website: "Jack Daniel's Black Label Tennessee Whiskey has no carbohydrates (sugar or starch), gluten, fats, or cholesterol, as these are removed in the distilling process."

Here's a Video on How Jack Daniel's is Made:
Gluten-Free But Not Labeled "Gluten-Free"
Now, some confusion arises because of labeling regulations that prevent products made with wheat, rye, or barley ingredients may not be labeled gluten-free in many countries. That is true in the United States. That means that even though these products are free from gluten, and safe for celiacs, they can't be labeled gluten-free. 
Some People Claim Gluten Sensitivity to Distilled Grain Liquor
The vast majority of people with celiac disease can tolerate alcohol distilled from grains, but some people claim sensitivity to such products. Clearly, any food or beverage that seems to consistently provoke a reaction should be avoided. So, if you have celiac disease and whiskey upsets your stomach or causes nausea and vomiting in moderate doses, it's best to avoid that liquor. For those who seem to tolerate it without issue, we say carry on, the science says that the product is gluten-free. 
To our knowledge, there has not been a scientific study to assess the effects of grain alcohols on otherwise gluten-free people with celiac disease. Such a study, especially a double-blind study that included a placebo, would be very welcome. 
Whiskey Labeled Gluten-Free
For people who avoid traditional whiskies and grain alcohols because of adverse symptoms, the best route is to go with alcohols that are distilled from gluten-free ingredients, such as vodka from potatoes, and whiskey from sorghum, among others. Whiskey made from gluten-free ingredients, and free of any gluten-containing additives can be labels "Gluten-Free." 
Many folks with celiac disease drink these beverages with confidence, knowing that they are gluten-free from start to finish, rather than being rendered gluten-free by the distillation process.
Here's a list of gluten-free whiskey, along with a few gluten-free gins and vodkas:
GLUTEN-FREE GIN
Cold River Gin is distilled from potatoes. The company's website says that, like their world-famous vodkas, their gluten-free gin is made with whole Maine potatoes and the pure water of Maine's Cold River. Cold River uses a recipe that "dates back to the early days of British gin," and contains their own "secret blend of seven traditional botanicals that are steeped for the perfect amount of time to infuse the essential flavors."
GLUTEN-FREE WHISKEY
Queen Jennie Whiskey, by Wisconsin's Old Sugar Distillery is made entirely from sorghum. The idea of a whiskey made from gluten-free grains is sure to excite anyone with celiac disease who longs for a wee dram, but wants a product labeled as "gluten-free."
According to the company web site, Queen Jennie is made with 100% Wisconsin Sorghum, and is "Less sour than a bourbon and less harsh than a rye."
GLUTEN-FREE VODKA
Cold River gluten-free vodka is triple-distilled in a copper pot still, from Maine potatoes and water from Maine's Cold River.
Corn Vodka—Deep Eddy, Nikolai, Rain, Tito's, UV
Potato Vodka—Boyd & Blair, Cirrus, Chase, Chopin, Cold River Vodka, Cracovia, Grand Teton, Karlsson's, Luksusowa, Monopolowa, Schramm Organic, Zodiac
Monopolowa is one of my favorites, and is usually available at Trader Joe's.
Tito's Award Winning Vodka is six times distilled from corn in an old-fashioned pot still, just like fine single malt scotches and high-end French cognacs. Tito's is certified and labeled "Gluten-Free."
Here's what people say about whiskey on the gluten-free and celiac disease forum.