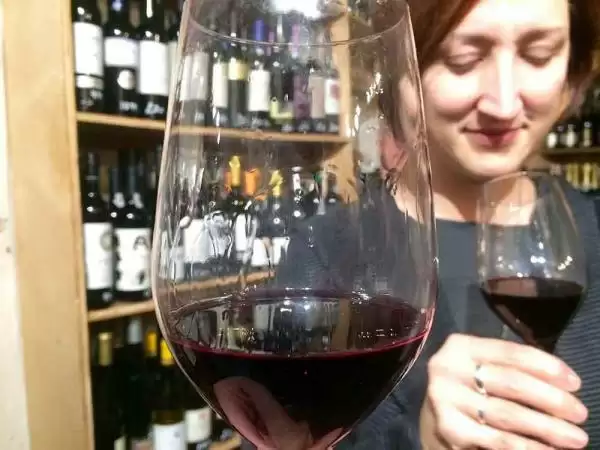 Caption: Image: CC--Jeremy Keith
12/13/2018 - Is wine gluten-free? Wine Spectator recently weighed in on gluten and wine. The article is worth a read, and there's a link at the bottom of this page. Meantime, here's a quick rundown of the basics of wine and gluten.
Wine is generally regarded as gluten-free and safe for people with celiac disease and other gluten-related sensitivities. That said, there are a couple of ways that wine could come to contain gluten; but they are mostly due to old and discontinued wine making practices.
---
Celiac.com Sponsor (A12):


---
---
Celiac.com Sponsor (A12-m):


---
First, in the old days, barrel makers used to seal barrels with with wheat paste, which contains gluten. Wine aged in these barrels could contain trace amounts of gluten. However, these days, nearly every winery in the world now uses non-gluten-based wax products to seal their barrels. Even if barrels commonly contained wheat paste, a 2012 test run by Tricia Thompson, founder of GlutenFreeWatchdog.org, found that gluten levels of two different wines finished in wheat paste–sealed barrels contained under 5ppm gluten—thus meeting the FDA gluten-free standard. So, that method of possible contact with gluten is unlikely to be a problem for most people with celiac disease or a medical gluten-sensitivity.

Another way wine could be exposed to gluten is if wheat gluten is used for a process called 'fining.' However, these days, the use of wheat gluten in fining is practically nonexistent. And even if wheat gluten were used for fining, it is unlikely to be an issue.  A 2011 study published in the Journal of Agricultural and Food Chemistry found that wines fined with gluten contained either extremely low, or undetectable, levels of gluten.

Furthermore, "even if any traces of gluten would accidentally enter a wine—let's say the winemaker falls into a tank holding a whole-wheat sandwich—as a protein, gluten would react with [wine's] phenolics," said Dr. Christian Butzke, a professor of enology at Purdue University. 

So, the vast majority of wines are gluten-free and likely safe for with celiac disease or a medical gluten-sensitivity.

"One thing for consumers to watch for is any wine or wine product that contains added colors or flavors, or that is made from barley malt, such as bottled wine coolers," says Marilyn Geller, CEO of the nonprofit Celiac Disease Foundation.

Bottom line: Check the label. If the product is a straight red or white or rosé wine, then it is almost certainly gluten-free. Watch out for coolers or wine with added ingredients. Read labels. If you still have questions, do not hesitate to contact the winery directly.

Read more at: WINESPECTATOR.COM