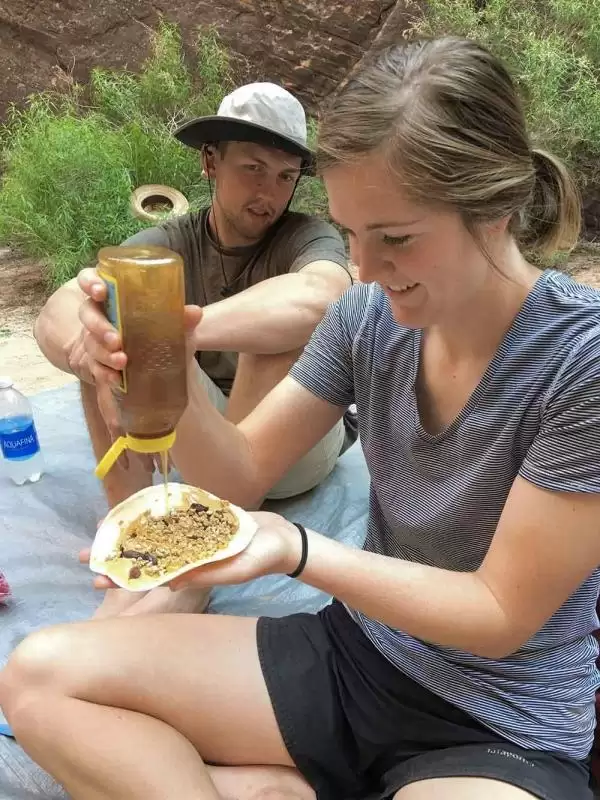 Caption: Image: CC--OakleyOriginals
Celiac.com 02/23/2019 - Early in the 1990s, a food craze started called the wrap.  Instead of using bread to make sandwiches, flat bread, tortillas, and even large lettuce leaves were used to hold sandwich fillings.  It started simply enough with the burrito.  Imagine, a cylinder-shaped sandwich you could hold in your hand… and then the craze blossomed to include almost every kind of filling imaginable.
Whether you use corn tortillas, rice flour tortillas, teff and millet tortillas, or homemade tortillas, and whether you opt to slice the filled roll in half for lunch or cut it into thin slices for an appetizer, wraps are delicious.  If you use soaked rice papers, wrap the completed sandwich in a damp paper towel then in wax paper to keep it moist until lunchtime.  Wraps are also eye candy because you can see all the different layers and colors hiding inside.
A wrap can be made with hot or cold fillings
Three components are usually used to create the filling.  First, there's a spread (hummus, guacamole, salsa, refried beans, or cream cheese for example) which is topped with something extra (sautéed mushrooms and onions, bacon, cheese, shredded lettuce, julienned veggies) and a hearty filling (lunchmeat, tuna fish, grilled chicken, roast beef, etc.)

Rolling the sandwich has become an art.  Before you start, warm the wrap slightly so it will be softer and easier to roll.  Start with a large 8 or 10 inch tortilla.  Wrap it in a damp paper towel and warm it in the microwave for a few moments to soften.  When spreading the filling, leave a 1-inch border around the edge so the filling doesn't ooze out when you roll it.  Once the wrap has been filled, begin rolling one side until the entire sandwich has been rolled.  If you want to make sure the filling doesn't slip out, after filling the tortilla, fold the bottom edge (about 2 inches) of the tortilla closest to you over the filling then fold in the sides; now roll the tortilla away from you to form a package.  Don't over-fill the wrap or it won't roll.

The best things about wraps (beside the fact that you can fill them with just about anything) are that they're pretty, economical, and taste great.  
Fillings can be as plain or elaborate as you choose
You can fill a wrap with peanut butter and bananas for a quick breakfast for the kids… or slather it with dilled mayonnaise before layering it with steamed salmon and capers.  They're perfect to serve at tailgate parties and they're easy to pack in lunch bags.
Wraps are so easy to assemble that kids can make their own.  Set out a spread, one or two fillings, and let them create their own masterpieces.  The great part about sending wraps in a lunch bag is that there's no bread to get soggy.  If the children are really small, slice the wrap into thin slices to create colorful pinwheels that will fit easily into their little hands.
If you're assembling your wrap to eat right now, brown the filled roll in a lightly oiled skillet over medium heat so it browns and crisps just a little; this adds another degree of flavor.  If your creation is to be eaten later, wrap it in wax paper, twisting the ends of the paper.  At lunchtime, either unwrap it and eat it as is or microwave it for 1-1/2 minutes to warm the filling.
Taco wraps are the favorites of most people
Spread the tortilla with refried beans.  Add a layer of guacamole or thinly-sliced avocados.  Next, layer a little cooked Spanish rice, taco-seasoned cooked ground beef or thin chicken slices, shredded lettuce, chopped tomato or salsa, and shredded cheddar cheese.  A few dollops of sour cream may be warranted, too.  Again, just put a very small amount of each item or you'll have trouble wrapping the filled tortilla.
Cold wraps can include a multitude of ingredients including roasted red peppers, thin pickle slices, tuna or chicken salad, cold salmon, slices of lunchmeat, shredded lettuce, sliced hardboiled eggs, sliced cheese or crumbled feta or blue cheese, thin tomato or cucumber slices,
Dressings or spreads can be any creamy salad dressing, hummus, plain or flavored cream cheese, or even just mayonnaise or mustard.
Hot wraps can be filled with julienned sautéed veggies, BBQ shredded pork, beef or chicken, shredded cheese, caramelized onions, or baked beans with slices of sausage.  Make an Asian wrap with sautéed beef strips and veggies and some steamed or refried rice.
Take your favorite food and convert it to a wrap.  This includes BLT, hero sandwich, sloppy joes, chicken Caesar salad, cobb or chef's salad, Asian stir-fry… almost anything can be wrapped in a tortilla.
Wraps offer versatility for vegetarians
Fill the wrap with grilled veggies and cheese, refried beans with sharp cheddar cheese and avocados, sautéed mushrooms with onions and zucchini slices, egg salad, artichoke hearts with feta cheese and thinly-sliced tomatoes, hummus with pepper cheese and roasted red peppers, or pesto with mozzarella cheese and tomato slices.
And wraps aren't just for lunches.  Scramble eggs with chopped green pepper and onion for breakfast then spoon it onto a wrap – add some chopped ham or cooked sausage if you like. Spread a wrap with apricot jam then a layer of yogurt; top with a drizzle of honey, toasted almonds, and a little cereal (gluten-free Chex cereal).  Make a Tex-Mex breakfast by drizzling hot or medium/hot salsa over scrambled eggs then sprinkle with sharp cheddar cheese before rolling.
Let's not forget dessert.  For dessert, spread a tortilla with softened cream cheese and canned pie filling then roll.  Or use peanut butter for the spread and top with raisins and chopped apple.  If you really want to be decadent, fill the wrap with sliced bananas, mini chocolate chips and miniature marshmallows then warm it in the microwave and top it off with a scoop of ice cream. 
Antipasto Lettuce Wraps by Connie Sarros
This recipe is from the book Gluten-free Cooking for Dummies
Belgium endive leaves were created to hold stuff. They're naturally boat-shaped and beg for a filling. You can eat these wraps right away, but they're even better if you cover and refrigerate the filling for a few hours to allow the flavors to blend. Total preparation time is 6 minutes.
Ingredients:
2 tablespoons olive oil
2 tablespoons cider vinegar
¼ teaspoon garlic powder
1/8 teaspoon pepper
¾ teaspoon dried oregano
1 small onion, minced
¼ green pepper, chopped
3 roasted red peppers, sliced thin
6.5-ounce can tuna fish, drained
2 ounces pizza pepperoni slices, halved
6-ounce jar marinated artichokes, drained and cut in half
8 Belgium endive leaves
Directions:
In a medium bowl, whisk together the oil, vinegar, garlic powder, pepper, and oregano. Add the onion, green pepper, red peppers, tuna fish, pepperoni, and artichokes and stir to blend. Spoon the mixture into 8 endive leaves to form a boat sandwich. Yield: 4 servings.