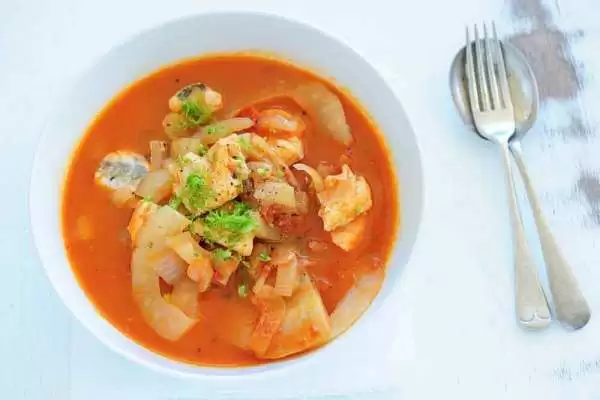 Caption: Image: CC--jules
Spring may have officially sprung, but there's still snow on the ground in much of the country, so this delightful fish and potato stew may be just the thing to warm the tummies of the hungriest eaters. Based on similar dishes prepared by Italian fishermen after a long day on the water, this gluten-free stew is easy to make and certain to please.
Ingredients:
1½ pounds fresh or frozen cod fish (or other white fish), cut in 1 x 1½-inch pieces
2 celery stalks, diced
2 red potatoes, diced
1 large white potato, diced
1 28 ounce can of Italian chopped tomatoes, including juice
1 8 ounce bottle of clam juice
4 cups of chicken broth
1 tablespoon olive oil
1 large onion, diced
6 garlic cloves, minced
1 bay leaf
½ teaspoon dried thyme
1 teaspoon dried oregano
½ cup flat Italian parsley, chopped
juice from 1 large lemon, deseeded
salt and pepper, to taste
---
Celiac.com Sponsor (A12):


---
---
Celiac.com Sponsor (A12-m):


---
Directions:
In a large soup pot, heat oil and add onion, garlic, celery and potato. 

Season with thyme, oregano, salt and pepper. 

Sauté for about 10 minutes until slightly softened. 

Add tomatoes, clam juice, lemon juice and broth. 

Bring to a boil and then let simmer for about 20 minutes, until potatoes are firm, but tender. 

Add fish pieces and stir gently. 

Cook for another 15-20 minutes until fish is firm, but tender. 

Add salt and pepper to taste.

Serve with toasted gluten-free bread or crackers.