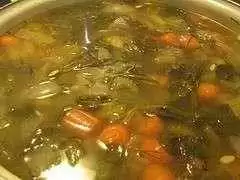 Caption: A wonderful pot of gluten-free soup! Photo: CC-Pirate Alice
Rich soups are a winter staple in many parts of Italy. This version brings together rice, chicken stock, cream, sausage and vegetables for a culinary delight. This delicious, rich, hearty, Italian style soup is perfect for winter, great for guests, and sure to delight palates to the last bite!
Ingredients:
2 quarts gluten-free chicken stock
2 tablespoons olive oil
3 cloves garlic, minced
2 tablespoons onion, chopped
2 - 3 carrots, sliced
4 links gluten-free Italian sausage, sliced
1 teaspoon dried oregano
1 tablespoon dried basil
¼ cup chopped fresh parsley
2 cups uncooked white rice
½ cup heavy cream
---
Celiac.com Sponsor (A12):


---
---
Celiac.com Sponsor (A12-m):


---
Preparation:


Heat oil in a large pot over medium heat. Sauté garlic and onion for until soft. Add the sausage, and cook until well-browned on all sides.

Add the chicken stock, oregano, basil and parsley. Bring to a boil, then reduce heat to low and simmer for 1 hour.

Add the rice and carrots, and simmer another 30 minutes or so, until rice is tender.

Lastly, stir the cream until blended well. Remove from heat and let soup cool slightly before serving.