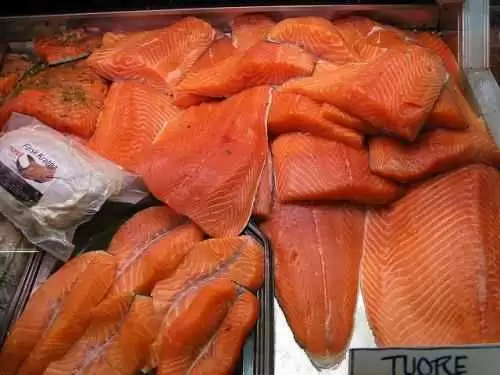 Image Caption: Image: CC--Jason Blue-Smith
Celiac.com 10/10/2016 - Omega-3 fatty acids are an important part of our diet. These key players help with brain function, are good for your heart, improve cholesterol and provide numerous other benefits. Salmon tastes delicious alone but why not dress it up a tad and enjoy a bit of change? I always love to work with gluten-free spices and add new and unique flavors to my gluten-free recipes.

My maple salmon recipe is the perfect amount of sweet along with all the spices playing perfectly with one's palate. Remember when purchasing salmon, ensure each piece is a similar thickness for consistent cooking. Most grocery stores will have precut pieces all ready to go. As a side note, this sauce pairs well with other proteins like chicken.

Ingredients
8 6 oz. salmon fillets
1 lemon, cut into wedges
4 teaspoons extra virgin olive oil
â…› teaspoon nutmeg
â…› teaspoon cinnamon
2 tablespoons garlic powder
¾ teaspoon salt
1 tablespoon onion powder
â…› teaspoon black pepper
¼ cup gluten-free soy sauce
¼ to ½ cup grade-B maple syrup
Directions:
Rinse and dry salmon fillets.
Rub each with a lemon wedge.
Brush 2 teaspoons of oil onto the fleshy side of the salmon (to help seasoning adhere).
In a bowl, mix nutmeg, cinnamon, garlic powder, salt, onion powder and black pepper. Sprinkle each filet with spice mix. Let sit covered in fridge for 1 hour.
Heat skillet and coat bottom with 2 teaspoons of oil.
When oil is hot, place salmon in skillet, flesh side down, and cook over high heat for about 4 minutes or until brown. Turn over and cook for an additional 4 minutes.
In a saucepan, mix together soy sauce and maple syrup over medium heat until sauce is thick enough to coat the back of a spoon (about 7 to 10 minutes).
Drizzle sauce over salmon fillets and serve.
Enjoy!