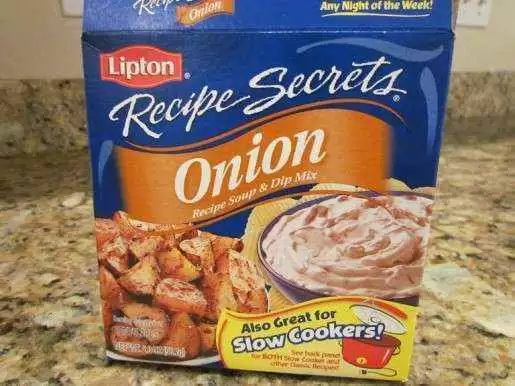 Caption: Image: Patty Gardner, Homemakersdaily.com
There's been some confusion as to whether Lipton's Onion Soup mix contains gluten. Officially, Lipton's lists the ingredients as: Onions (deyhydrated), salt, cornstarch, onion powder, sugar, corn syrup, hydrolyzed soy protein, caramel color, partially hydrogenated soybean oil, monosodium glutamate, yeast extract, natural flavors (wheat), disodium inosinate, disodium guanylate.
Also, some folks point out that the kosher version lists yeast extract from barley as an ingredient.
---
Celiac.com Sponsor (A12):


---
---
Celiac.com Sponsor (A12-m):


---
Others point out, as does the website for Unilver, which makes Lipton products, that Lipton Onion Soup mix is "made in a facility that also processes milk, eggs, soy, wheat, sesame and sulfites."

To be on the safe side, I usually make my own mix and store it for later use. Here's a great recipe for a tasty gluten-free onion soup mix that tastes very much like Lipton's, and works great as a substitute in other recipes. It goes great in meatloaf, stew, and works well to make dip.

Ingredients:
1½ cups dried minced onion
¼ cup beef bouillon powder (gluten-free)
2½ tablespoons onion powder
½ teaspoon crushed celery seed
½ teaspoon sugar

Directions:
Combine all ingredients and store in an airtight container. About 5 tablespoons equals a single 1¼-ounce package of Lipton's mix.