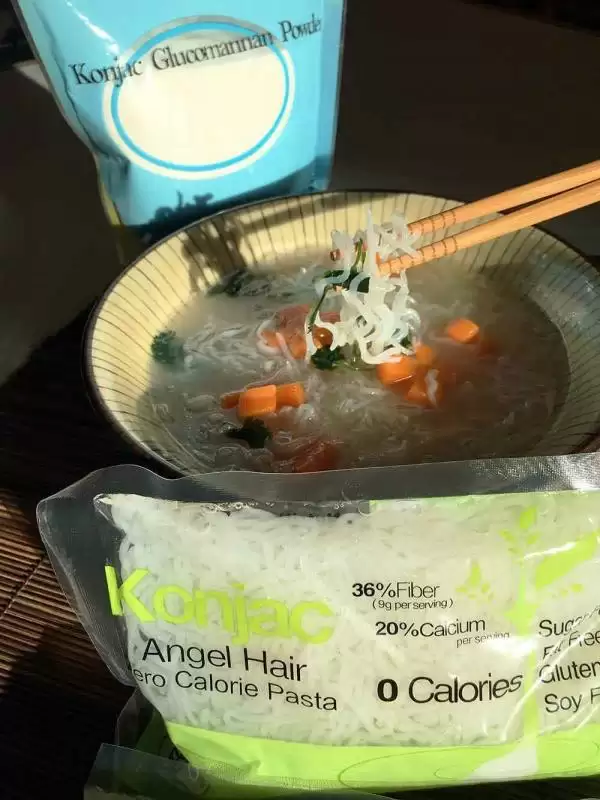 Caption: Konjac Angel Hair Pasta
Celiac.com 03/30/2018 - As most people know already, "al dente" is an Italian term that describes how pasta should be prepared—not too hard, and not too soft. Konjac Angel Hair Zero Calorie Pasta by Konjac Foods comes ready-to-eat in 8.8 ounce packages that are filled with water, so the noodles are kept wet and ready-to-eat within the package, and despite this, the Konjac noodles are still perfectly al dente—firm but not soft. 
Remarkably these noodles are marketed as "0 Calories," and are free of sugar, fat, soy, and gluten. Their only ingredients are konjac glucomannan fiber, calcium hydroxide, and purified water. For those who don't know,  konjac glucomannan (KGM) is "a water-soluable dietary fiber derived from the root of the konjac plant." It is known as "moyu" or "juruo" in China, and "konnyaku" or "shirataki noodles" in Japan.
---
Celiac.com Sponsor (A12):


---
---
Celiac.com Sponsor (A12-m):


---
Besides being a great noodle choice for those on a gluten-free diet, Konjac noodles are also ideal for people on weight-loss or diabetic diets, as they are high in fiber and contain zero calories. Amazingly, the shelf life of these individual serving-sized packages is one full year at room temperature, so you can feel free to stock up on them.

Konjac Foods also makes "Konjac Gucomannan Powder" in 500g packages. One teaspoon of the konjac powder can be added to 8 ounces of your favorite drink, including in smoothies. The dietary fiber in konjac flour is also water soluble, and according to the maker it has: "a greater potential to reduce postprandial blood glucose, insulin, and serum lipid levels than insoluble fiber." 

I tried both products, and found that the noodles were an excellent substitute for rice noodles in my homemade ramen. I also tried the noodles as a spaghetti replacement, and although they had a different texture than I'm used to, I really enjoyed it. The powder can be added as a fiber supplement to foods, drinks, and shakes, and I tried it in a smoothie. 

Anyone who is dieting to lose weight, on a gluten-free or diabetic diet, or just looking for a more healthy noodle substitute (that won't spike your blood sugar) will appreciate these Konjac Foods products.  

For more info visit their site.