Korean food is right at the top of my favorite international cuisine list, especially Korean barbecue. Gal-bi, or beef ribs are my very favorite Korean food. The Koreans know a thing or two about grilling ribs, and good Korean barbecue will hold its own against the very best anywhere. In addition to being tasty, it's easy to prepare and cooks up quickly with very little effort.
This recipe will deliver a batch of tasty, succulent ribs that would pass muster in the most discerning Korean kitchen. This recipe will serve about five or six people. The marinade can also be used on chicken or pork, if you like.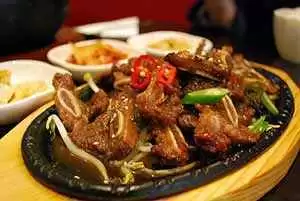 Ingredients:
1¼ cups gluten-free tamari or soy sauce
1¼ cup water
3½ tablespoons white vinegar
⅓ cup dark brown sugar
3 tablespoons white sugar
1½ tablespoons black pepper
2 tablespoons sesame oil
⅓ cup minced garlic
1 medium onion, minced
4 pounds Korean-style short ribs (beef chuck flank, cut 1/3 to 1/2 inch thick across bones - you can ask your butcher to cut these for you)

Directions:
Pour gluten-free tamari, water, and vinegar into a large glass or non-metallic bowl.

Whisk in brown sugar, white sugar, pepper, sesame oil, garlic, and onion until the sugars is completely dissolved.

Submerge the ribs in this marinade, and cover with plastic wrap. Refrigerate 7 to 12 hours; the longer, the better.

Preheat an outdoor grill for medium-high heat.

Remove ribs from the marinade, shake off excess, and discard the marinade. Cook on preheated grill until the meat is no longer pink, 5 to 7 minutes per side.

For a delicious taband memorable meal, grab some gluten-free beers, and serve these ribs with rice, kimchee, and other pickled or steamed vegetables.