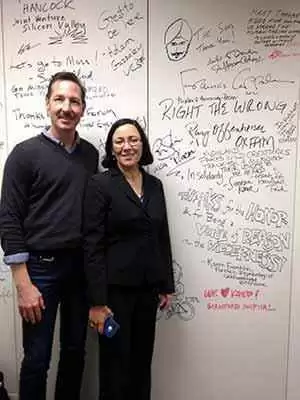 Caption: Celiac.com writer Jefferson Adams and Dr. Nielsen Fernandez-Becker in the green room for KQED's 'Forum' Radio Show on Celiac Disease and Gluten Intolerance. Photo: Courtesy of Stanford Hospital and Clinics.
Celiac.com 12/17/2012 - On Friday, December 7th, 2012, KQED public radio hosted an hour-long program on celiac disease and gluten-sensitivity called: Going Gluten-free.

The program was part of the regular KQED program, Forum, and was hosted by veteran KQED personality Dave Iverson.
---
Celiac.com Sponsor (A12):


---
---
Celiac.com Sponsor (A12-m):


---
KQED has the largest listener audience of any public radio station in the nation, so this presents a welcome opportunity to spread awareness of celiac disease, gluten-intolerance, and gluten-free issues to a wide audience.

KQED's tagline for the show was: If you're gluten-free, going to the grocery store used to mean spending hours reading labels to avoid anything with wheat, barley or other grains. But with the rising number of people with celiac disease and gluten intolerance, more stores and restaurants are offering gluten-free foods. We'll discuss the rise of gluten-free diets.

The guests for the one-hour program were:
Dr. Neilsen Fernandez-Becker, associate director of the Celiac Management Clinic at the Stanford School of Medicine
Jefferson Adams, writer at Celiac.com
Melinda Dennis, dietician and nutrition coordinator with the Celiac Center at Beth Israel Deaconess Medical Center, sufferer from celiac disease, and co-author of "Real Life with Celiac Disease: Troubleshooting and Thriving Gluten-Free"
Sadie Scheffer, owner and founder of BreadSRSLY.com, which delivers gluten-free breads around San Francisco.
You can listen to an archive of the broadcast at KQED.com.