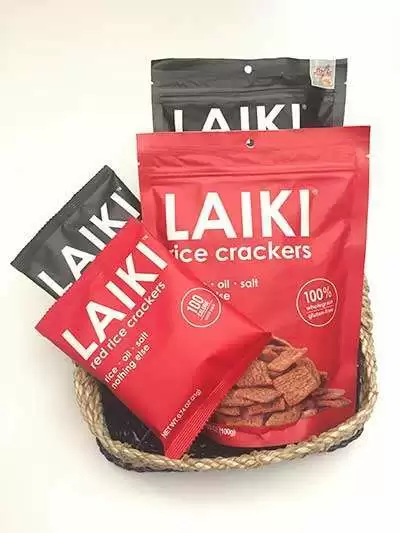 Caption: Laiki makes a red and black rice variety of their tasty crackers. Image: Mei Adams
I recently discovered a new snack cracker called Laiki Red Rice Crackers, which I would recommend to anyone who likes a healthy snack cracker.
Despite their delicious and complex whole grain taste, they are made with only three ingredients: wholegrain red rice, sustainably farmed palm oil, and sea salt. This means that they are a very allergy-friendly snack cracker that is suitable for just about anyone, and of course they are also gluten-free.
---
Celiac.com Sponsor (A12):


---
---
Celiac.com Sponsor (A12-m):


---
A 21 gram package contains only 100 calories, and has 4% of your recommended daily fiber. They also make a black rice variety, which I plan to try next.

For more info visit their site: laikicrackers.com.