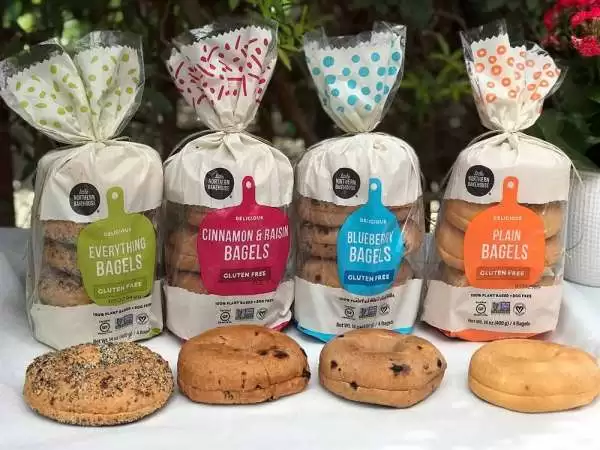 Celiac.com 08/18/2020 - More than ever before, people with celiac disease are turning to certified gluten-free products.  In the USA, gluten-free certification ratchets safety up a notch or two when compared with only the basic FDA labeling regulations.
Likewise, when it comes to gluten-free bagels, Little Northern Bakehouse takes them to a whole new level with their incredible line of certified gluten-free, allergy-friendly bagels. They are so good that the average gluten eater would not likely ever realize that they were glutenless. Little Northern Bakehouse has clearly done their homework because they've somehow perfectly captured the one thing that is most difficult about making bagel without gluten: The chewiness factor—the glutinous mouth feel of a real wheat bagel—which is not small feat!
---
Celiac.com Sponsor (A12):


---
---
Celiac.com Sponsor (A12-m):


---
Little Northern Bakehouse offers four delicious bagel varieties: Plain, Everything, Cinnamon Raisin, and Blueberry, and each version lives up to its namesake. The Cinnamon Raisin bagels contain real raisins, and are seasoned perfectly with cinnamon. The Blueberry bagels contain real blueberries that explode with flavor. The Everything bagels are covered with a wonderful assortment of flavorful seeds, and, if you like your bagels plain, you'll love their Plain bagels because their flavor and "toastability" is just like the real bagels that you remember eating in your pre-gluten-free days. 

Another thing that I really love about all Little Northern Bakehouse products is their liberal use of healthy ingredients, including whole grains, brown rice husks, and psyllium fiber. This translates to high fiber, healthy products, and each bagel has around 20% of the daily recommended value per bagel! 

So, besides having  captured the bagels that you remember falling in love with, they have also created a healthier version of them by packing them with fiber that is missing in so many gluten-free products. If you've been longing for a REAL bagel that also happens to be a healthier version of it, then Little Northern Bakehouse has got you more than covered!

Visit their site for more info.