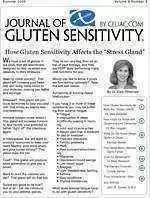 Caption: Subscribe to Journal of Gluten Sensitivity for more articles like this one.
This article originally appeared in the Autumn 2010 edition of Celiac.com's Journal of Gluten-Sensitivity.

Celiac.com 05/09/2011 - Living with celiac disease and diabetes can be a challenge, but it is not impossible.  You can travel the world, eat out and enjoy life but assertiveness is important to maintaining good blood glucose management and digestive health.

Individuals with diabetes may notice an elevation of their blood glucose after overeating gluten-containing foods at a party, sleep-over, or birthday celebration.  The usual rationalization is that too many calories and/or carbohydrates were consumed.  However, it may be a wake-up call for you to try and control blood glucose levels by reducing or excluding gluten-containing foods.

When eliminating wheat is first proposed as an alternative for controlling blood glucose, a frequent response is to express how "nutritious" wheat is.  As the nutritional comparison of flours in my book Living Gluten-Free (Charles C.  Thomas, Publisher, 2008)  illustrates, rice flour is comparable to wheat flour, and superior in Vitamin B6, Pantethenic Acid, Zinc, Copper, Manganese and many other vitamins and minerals.

Gluten sensitivity may affect as many as 1 in 25 Americans.  It is also becoming better recognized as a primary cause of inflammation.  Celiac disease or gluten intolerance can masquerade as many other diseases, including diabetes.  Many people given steroid medications for bowel inflammation can also develop diabetes as a side-effect of the steroid medication.

Once a gluten-free diet has been started, it is not necessary to "go back on wheat" to get a diagnosis of celiac disease.  A simple blood test can reveal whether one has the predisposing genes for gluten enteropathy, and therefore whether it is a cause of blood glucose problems.  Far too many people are told by gastroenterologists that a small intestinal biopsy is the "gold standard" for diagnosis.  A HLA-DQ2/DQ8 blood test is less invasive, more precise and more cost-effective than the "gold standard".  Genetic predisposition for celiac disease has been described by Alessio Fasano, MD and illustrates how celiac disease is not one disease.  In addition, genetic sequencing has reported that both celiac disease and diabetes are located on Chromosome 6, along with Crohn's Disease.

For managing diabetes, a gluten-free, carbohydrate-controlled diet can be a healthier alternative than eating whole wheat.  Ten years ago gluten-free products such as prepared muffins, cookies, pizza crust, etc.  were not available.  Rice cakes were the norm and homemade bakery products added variety to the diet.  Today, there are aisles of gluten-free products in the supermarket and health food stores.  Even major convenience bakery mix producers like General Mills, Minneapolis, MN offer gluten-free cookie brownies and cake mixes.

The advantage of choosing recipes in Living Gluten-Free is that sugar and carbohydrate levels are reduced compared to the mixes and prepared frozen bakery products available.  This is important for individuals with diabetes who must limit carbohydrates.  If prepared products are used in the diet, remember to divide the sugars total on the nutrition label by 4 to calculate how many teaspoons of sugar are in a serving (Example: chocolate chip cookie 1= sugars 13g divided by 4g = 3 teaspoons sugar per cookie).

The only therapy currently available to treat gluten intolerance is removal of gluten from the diet.  Since gluten is a component of many common foods and widely available in so many convenience foods, avoidance can be challenging.  Here are two menu ideas for a gluten-free diabetic diet.  More menus are available in Living Gluten-Free.
Day 1   

Breakfast: Grits, Scrambled Eggs, Orange Juice
Lunch: Taco Salad & Corn Chips
Dinner: Rib-eye Steak, Baked Potato, Spinach, Tomato Salad
Snack: Grapes
Day 2

Breakfast: Turkey Sausage, Blueberry Muffin*, Apple
Lunch: Sliced Ham on Rice Bread, Fresh Fruit
Dinner: Baked Chicken, Sweet Potato, Roasted Cauliflower, Carrot Raisin Salad
Snack: Rice Flour Brownie