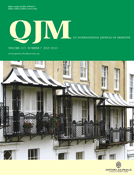 Caption: QJM celiac study
Celiac.com 07/28/2010 - Most people with celiac disease keep themselves healthy by following a gluten free diet. More and more, doctors are recognizing the importance of confirming gut recovery through follow-up evaluation. Still, among clinicians, there is currently no standard for follow-up confirmation of gut healing in celiac disease treatment.
Many guidelines recommend an initial follow-up biopsy at 4-6 months after the patient begins a gluten-free diet. However, the use of biopsy to confirm gut healing is still controversial, as it can yield enormously variable results.
The research team was made up of J.M. Hutchinson, N.P. West, G.G. Robins and P.D. Howdle. They are variously affiliated with the Sections of Medicine, Surgery and Anesthesia, the Section of Pathology & Tumour Biology at the Leeds Institute of Molecular Medicine in Leeds, and with the Department of Gastroenterology of the York Foundation Hospitals Trust, York, UK.
The team enrolled patients who attended a specialty celiac disease clinic prior to March 2009, and recorded various clinicopathological information into a database.
The team reviewed histopathology reports for all duodenal biopsies, and scored each biopsy for histopathology based on a modified Marsh grade.
The team indexed and performed at least one biopsy on two hundred and eighty-four patients.
The team found marked gut improvement in two-hundred and twenty-seven patients (80%), and a complete return to normal histology in 100 patients (35%). Average recovery time was 1.9 years, with a range of 1.0–4.8 years.
Patients with less serious celiac disease at the start showed a better overall response (r = 0.281, P < 0.0001), while older patients recovered more quickly (r = –0.200, P = 0.001).
Patients who best followed a gluten-free diet showed the best biopsy scores (r = –0.134, P = 0.040) and the greatest degree of histological recovery (r = 0.161, P = 0.014).
Current guidelines for treatment of celiac disease recommend timing repeat biopsy 4-6 months after commencing a gluten free diet.
These results shows histological recovery generally takes longer than traditionally thought, and that doctors looking to conduct such follow-ups might do well to factor in the patient's age at diagnosis, the initial disease score, as well as the level of compliance with a gluten free diet.
Source: