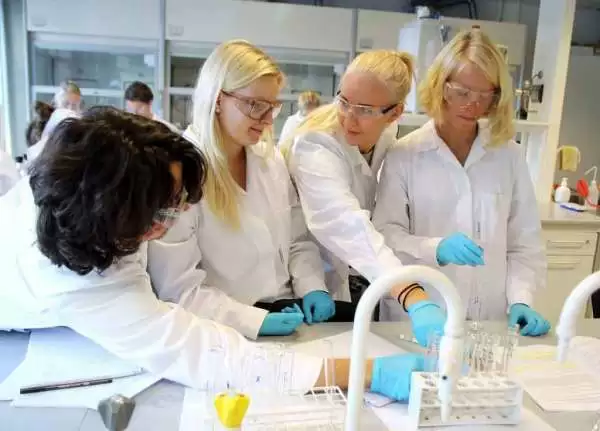 Caption: Image: CC BY 2.0--NTNU, Faculty of Natural Sciences
Celiac.com 08/10/2020 - Small bowel cancers are on the rise. Research has shown some possible connections with celiac disease, but there have not been any detailed large group studies. To better understand the connections between celiac disease and small bowel cancers, a team of researchers recently set out to conduct a large group study.
The UK and Swedish based team turned to the nationwide ESPRESSO cohort study to gather data on everyone diagnosed for celiac disease from 1965 through 2017 at any of the twenty-eight pathology centers in Sweden. 
---
Celiac.com Sponsor (A12):


---
---
Celiac.com Sponsor (A12-m):


---
They defined celiac disease as duodenal or jejunal villous atrophy, with a stage 3 Marsh score, and matched celiac patients with up five control subjects randomly chosen from the general population. They used stratified Cox regression to calculate hazard ratios for small bowel adenocarcinoma, adenomas and carcinoids. Over an average follow up of 11 years, they matched nearly 50,000 celiac patients with about 240,000 controls. 

Overall, for about every 3,000 patients with celiac disease followed for 10 years, they found one extra case of small bowel adenocarcinoma. They observed an inverse relationship between mucosal healing and risk of future small bowel adenocarcinoma, though this was not statistically significant.

Their analysis showed the absolute risk of small bowel adenocarcinoma is low in people with celiac disease. However, even though the absolute risk is low, the team found that risks are still much higher than non-celiacs for small bowel adenocarcinoma and adenomas, but not for carcinoids.

The good news is that the overall risks of developing small bowel adenocarcinoma remain low in people with celiac disease. The bad news is that the risk is still many time greater than it is for people without celiac disease.

Read more in Gastroenterology

 

The research team included Louise Emilsson, Carol Semrad, Benjamin Lebwohl, Peter Hr Green, and Jonas F Ludvigsson. They are variously affiliated with the Department of General Practice & Department of Health Management and Health Economics, Institute of Health and Society, University of Oslo, Oslo, Norway; Department of Medical Epidemiology and Biostatistics, Karolinska Institutet, Stockholm, Sweden; Faculty of Medicine and Health, Örebro University, SE 701 82, Örebro, Sweden; Vårdcentralen Årjäng and Centre for Clinical Research, County Council of Värmland, Värmland, Sweden; the University of Chicago Medicine, Chicago, IL, USA; the Department of Medical Epidemiology and Biostatistics, Karolinska Institutet, Stockholm, Sweden; the Department of Medicine, Columbia University College of Physicians and Surgeons, New York, New York, USA; the Department of Paediatrics at Örebro University Hospital, Örebro, Sweden; and the Division of Epidemiology and Public Health, School of Medicine, University of Nottingham, Nottingham, UK.