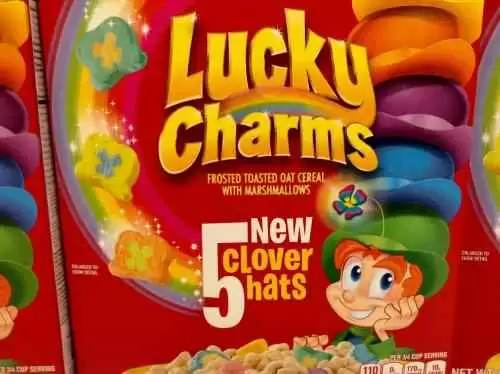 Caption: Lucky Charms cereal is the latest General Mills cereal to go gluten-free. Photo: CC--Mike Mozart
Celiac.com 10/10/2016 - Good news for anyone on a gluten-free diet who misses their beloved Lucky Charms breakfast cereal.
Lucky Charms joins a number of General Mills' other brands with gluten-free versions, including Chex and Cheerios. In this case, the company turned an old brand into a gluten-free product.
To solve that, General Mills has created a process that sorts "out the small amount of wheat, rye and barley in our supply of whole oats that are inadvertently introduced at the farms where the oats are grown, or during transportation of the whole oats to our mill," according to the company.
General Mills has applied for patents on their unique sorting process that ensures General Mills' gluten-free cereals meet the FDA's strict guideline for gluten free, said Emily Thomas, senior marketing manager for Lucky Charms in a press release.
One advantage of General Mills sorting process is that it allows the company to formulate gluten-free options without altering their recipes, or changing their flavor.
One thing consumers can count on, says Thomas, is that "…the recipe won't change. It will maintain the same great, magically delicious taste that Lucky Charms fans love."
Read more: Investopedia