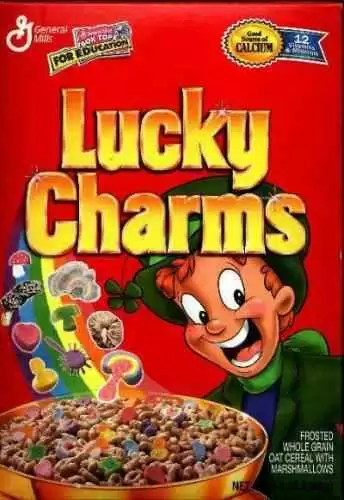 Caption: Photo: Wikimedia Commons
Celiac.com 07/06/2015 - In what is basically a response to falling cereal sales and rising gluten-free demand, General Mills has announced plans to add Lucky Charms to its stable of gluten-free cereals.

The release is part of a $712 million capital investment that will include five gluten-free Cheerios varieties this summer, and gluten-free Lucky Charms later this year.
---
Celiac.com Sponsor (A12):


---
---
Celiac.com Sponsor (A12-m):


---
Kendall Powell, chief executive of General Mills, said about 30% of consumers were interested in gluten-free foods, and that taking a number of popular cereals gluten-free was part of a plan to draw those people back to the cereal aisle.

The company projects that the addition of gluten-free Cheerios and Lucky Charms will help push gluten-free products to half of total cereal sales and 17% of total category sales.

General Mills has been testing the gluten-free market since debuting Gluten-free Rice Chex in 2008. Time will tell if gluten-free versions of popular General Mills cereals will be enough to boost slumping cereal sales and improve the company's outlook.

In the meantime, gluten-free eaters are once again the beneficiaries. What do you think about gluten-free Lucky Charms? Magically delicious gluten-free news?