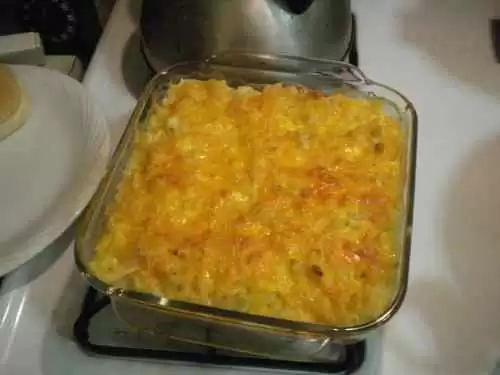 Caption: Gluten-Free Macaroni and Cheese (photo courtesy of YoAmes)
Macaroni and cheese is the ultimate comfort food. Whenever nothing else sounds good, macaroni and cheese comes to the rescue. I was so sad when I had to give up gluten and dairy and thought I may never get to eat macaroni and cheese again. However, I modify the following recipe to fit my dietary requirements, and it's yummy! I substitute butter for coconut oil,  cow milk for almond milk, and real cheese for Daiya chedder. Macaroni and cheese is very forgiving and it's almost impossible to ruin it, so feel free to experiment with the ingredients and substitute where needed.
Ingredients

Filtered water, pinch sea  salt
1 cup gluten-free macaroni noodles
1 tablespoon butter (or substitute)
1 tablespoon gluten-free all purpose flour
1 cup milk (or substitute)
¾  teaspoon sea salt
¼ teaspoon pepper
¼ teaspoon paprika
2 cups shredded cheddar cheese (or substitute)
Directions
Preheat oven to 400 degrees Fahrenheit.
Fill large pot half way with water. Bring water to a boil; cook macaroni to al dente stage according to package directions.
Drain well.
Melt butter in a saucepan over medium-low heat.
Whisk in flour and cook, stirring constantly, for 2 minutes.
Whisk in milk and continue cooking, stirring constantly, until sauce thickens, about 5 minutes.
Stir in salt, pepper and paprika and remove from heat.
Stir in 1/4 cup of the cheese.
Spread half the macaroni over the bottom of a lightly greased 1 quart baking dish.
Spread half the remaining cheese over the macaroni.
Top with remaining macaroni.
Pour sauce over the macaroni.
Top with the remaining cheese.
Bake until bubbly and lightly browned, about 20 minutes.
Let rest 5 minutes before serving.