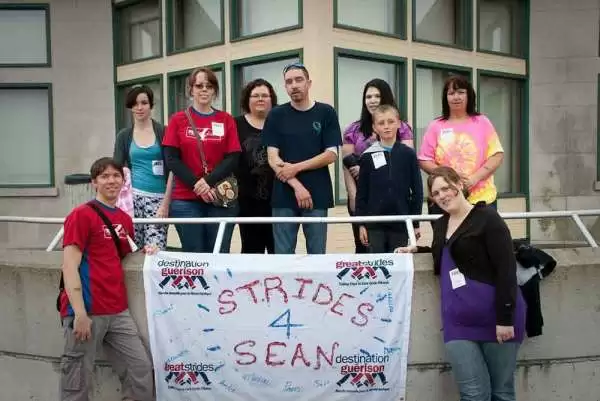 Caption: Great Strides Walk For Cystic Fibrosis. Image: CC BY-ND 2.0--fabfotophotography
Celiac.com 03/05/2020 - In the United States, the average person with celiac disease still suffers for about ten years before getting a diagnosis. Many go longer. The story of a man who was sick for nearly fifty years before receiving a diagnosis of cystic fibrosis serves as a shocking outlier to stories of chronic suffering and prolonged medical diagnosis.
Steven Knapp was sick for most of his life, and things got especially bad in his 30s, when he began to suffer unexplained bouts of exhaustion. But whenever doctors tested him, nothing ever seemed out of place.
---
Celiac.com Sponsor (A12):


---
Things got really bad in 2013, after Knapp adopted a low-carbohydrate diet emphasizing protein, healthy fats and vegetables. The 5-foot-3 Knapp, who weighed just 140 pounds to begin with, began losing "a pound a day." No matter how much he ate on his low-carb plan, he kept losing weight.

That's when a worried Knapp turned to doctors. The first first move was to check Knapp for pancreatic or lung cancer. After testing ruled out both, his doctor told Knapp that she suspected some kind of exocrine pancreatic deficiency. Such a condition can occur when the pancreas fails to generate or transport digestive enzymes essential to breaking down food in the intestine. Exocrine pancreatic deficiency can have numerous causes, including celiac disease. It can also arise from chronic pancreatitis or cystic fibrosis, or from gastric bypass or other intestinal surgery.

His doctor prescribed daily doses of replacement oral pancreatic enzymes, and suggested that Knapp begin including carbohydrates in his diet. In time, he began to put on weight and to feel better.

His doctor told Knapp that his personal and family medical history, including his sinus problems, nagging cough, and some of the test results suggested he might be suffering from what is called atypical or mild cystic fibrosis.

Classic cystic fibrosis, is most common inherited disease among Caucasians. Cystic fibrosis occurs when people inherit two defective genes, one from each parent. Though mainly affecting the lungs, cystic fibrosis can also impair the functions of the sinuses, reproductive tract, pancreas and other digestive organs by generating a sticky mucus that interferes with their function.

So there you have it. After fifty years of suffering, Stephen Knapp has a diagnosis, a treatment, and a much better handle on his health than ever before.

Do you or someone you know have a prolonged diagnosis story to share? Be sure to comment below.

Read more at Inquirer.com