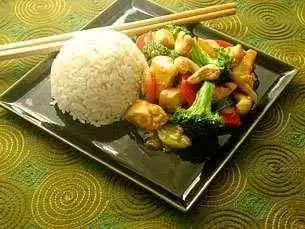 Caption: Photo: CC/Startcooking Kathy & Amandine
This Mango stir-fry is very easy to make and can be put together for a quick meal during the week.It is also corn-free, dairy-free, egg-free and sugar-free with an option for vegetarians or vegans. As always, the variations are up to you. If you are like me, you will experiment using different ingredients each time, to come up with creative variations.

Mango Stir-Fry with Peanut Sauce (Gluten-Free)
Serves: 2 hungry people
Sauce Ingredients:

½  cup peanut butter
⅓ cup water
¼ cup gluten-free soy sauce
2 Tablespoons fresh squeezed lime juice
2 cloves garlic, minced
2 Tablespoons rice vinegar
Chili flakes to taste
Stir Fry Ingredients:
1 cup rice
2 Tablespoons oil
1 large chicken breast or tofu cut into 1" strips
1 large carrot julienned
1 cup string beans
½ head broccoli chopped
1 large zucchini, sliced
½  cup mushrooms, chopped
2 mangoes peeled, seeded and cubed
To Make:
Combine all sauce ingredients in small sauce pan over low heat.
While sauce is warming up, begin preparing rice according to package directions.
In a wok or large pan, add oil and fry meat over medium heat until no longer pink.
Add carrots, and broccoli and string beans. Cover and let simmer for 5 minutes.
Add zucchini and cook for 2 minutes.
Add mushrooms and mango and cook for an additional 2 minutes.
Remove from stove, add sauce and stir.
Serve with jasmine rice, or rice of your choice.