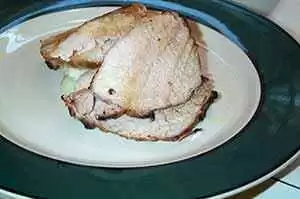 Caption: The finished pork tenderloin. Photo: CC--Stu Spivack
Celiac.com 09/30/2014 - Pork tenderloin is a versatile favorite. This recipe for marinated pork tenderloin makes a tasty, grilled version that is gluten-free and ready to please.

Ingredients:
2 (¾ pound) pork tenderloins
¼ cup balsamic vinegar
¼ cup gluten-free soy sauce
¼ cup packed brown sugar
1½ teaspoons onion powder
1 teaspoon ground cinnamon
½ teaspoon garlic powder
¼ teaspoon black pepper
2 tablespoons olive oil
Place pork in bag with marinade, seal, and refrigerate for 6 to 12 hours.
Heat grill for high heat.
Lightly oil grill grate.
Place tenderloins on a lightly oiled grill, and discard marinade.
Cook 20 minutes, or to desired doneness.
Slice into medallions, and serve.