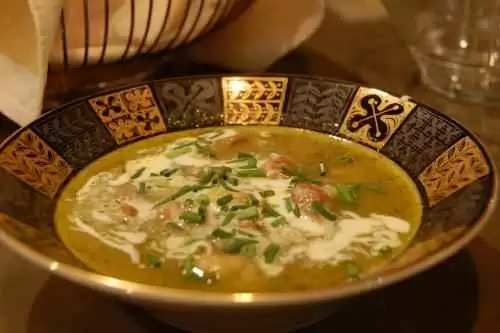 Caption: The finished green chile chicken pozole. Photo: CC--Stu Spivack
Celiac.com 12/02/2017 - Pozole, pozole, pozole. Pozole seems to be popular lately. Pozole is a hominy-based Mexican stew closely associated with the Pacific-coast state of Guerrero.
I've noticed a number of references to pozole lately. I've seen articles touting pozole in place of traditional turkey dinner for Thanksgiving, and articles about using leftover Thanksgiving turkey to make pozole.
---
Celiac.com Sponsor (A12):


---
---
Celiac.com Sponsor (A12-m):


---
This tasty recipe calls for chicken, but you can easily substitute turkey, leftover or otherwise. When stewed in chicken broth and other tasty ingredients like tomatillos, green chiles.

Ingredients:
Three 15-ounce cans of hominy, drained
8 cups chicken stock
2 cups water
6 chicken thighs on the bone, with skin
1 pound tomatillos, husked and halved
1 medium onion, quartered
2 poblano chiles, cored, seeded and quartered
2 jalapeños, seeded and quartered
6 large garlic cloves, smashed
1 tablespoon oregano leaves
Salt and freshly ground black pepper
1 tablespoon vegetable oil
For Serving:
Finely shredded cabbage
Fresh Mexican cheese (queso fresco)
chopped cilantro
sliced radishes
chopped onion
diced avocado
sour cream
tortilla chips
lime wedges
Directions:
In a large stock pot, bring the chicken stock and water to a boil. Add the chicken thighs, cover and simmer over very low heat until they're tender and cooked through, about 30 minutes.
Skim any fat from the cooking liquid and reserve.
In a blender, combine the halved tomatillos with the quartered onion, poblanos and jalapeños, smashed garlic, chopped cilantro and oregano.
Blend until coarsely chopped. With the machine on, add 1 cup of the cooking liquid and purée until smooth.
Season with salt and pepper.
In a large deep skillet, heat the vegetable oil.
Add the tomatillo purée and cook over moderate heat, stirring occasionally, until the sauce turns a deep green, about 10 minutes.
Pour the green sauce into the cooking liquid in the stock pot.
Add the hominy and bring to a simmer over moderate heat.
Add the chicken thighs back to the stew, season with salt and pepper and cook just until heated through.
Serve the pozole in deep bowls, and garnish as desired with quest fresco, cabbage, radishes, onion, avocado, sour cream, tortilla chips and lime wedges at the table.