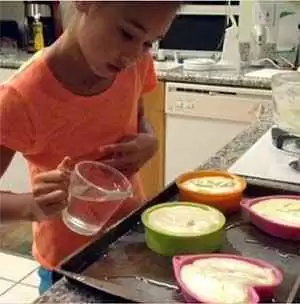 Caption: Preparing to put the cakes in the oven.
Celiac.com 11/07/2014 - This gluten-free lemon cheesecake recipe is great to make for a dessert or special treat for your family and friends. It is one of my all time favorites!
---
Celiac.com Sponsor (A12):


---
---
Celiac.com Sponsor (A12-m):


---
Ingredients:
2 cups almond meal
1/2 stick butter
19 oz. cream cheese
1 cup sugar
3 eggs
1 tablespoon vanilla
1 tablespoon lemon zest
1 tablespoon lemon juice

Directions:
Mix almond meal and room temperature butter with your and until it is evenly mixed. Use your hand to coat the bottom of a pan with the almond meal mixture until it is even, and then bake crust at 325F for 10 minutes, or until it is golden brown.
Grate the skins of 2 lemons to make lemon zest.
Add the cream cheese to a mixing bowl and mix until fluffy, then add the sugar, eggs, vanilla, lemon zest and lemon juice and continue to mix for 1 minute.
Spoon the mixture into the pan with the crust until just below the top.
Put the cake onto a cookie sheet that is covered with a layer of water and bake in the oven for 30 minutes at 350F.
Chill and serve.