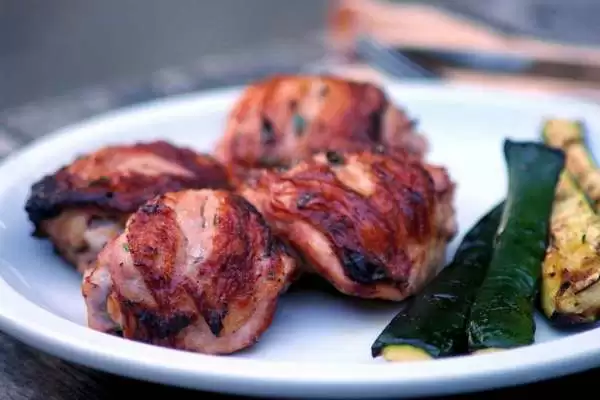 Caption: Easy gluten-free chicken teriyaki. Photo: CC--Isaac Wedin
04/23/2019 - Looking for a no hassle, easy to please dinner idea? This baked teriyaki chicken comes together in a snap, and cooks in under an hour.
---
Celiac.com Sponsor (A12):


---
---
Celiac.com Sponsor (A12-m):


---
Ingredients:
6-8 chicken thighs
1 tablespoon cornstarch
1 tablespoon cold water
½ cup brown sugar
½ cup gluten-free soy sauce
¼ cup cider vinegar
1 clove garlic, minced
½ teaspoon ground ginger
¼ teaspoon ground black pepper
Directions:
In a small saucepan over low heat, combine the cornstarch, cold water, sugar, soy sauce, vinegar, garlic, ginger and ground black pepper.
Place on the stove top, and bring to a simmer, stirring frequently, until sauce thickens and bubbles. Remove from heat.
Heat oven to 425 degrees F.
Place chicken pieces in a lightly greased 9x13 inch baking dish.
Brush chicken with the sauce. Turn pieces over, and brush again.
Bake for 15-20 minutes.
Turn pieces over, and bake for another 15-20 minutes, until juices run clear when poked with a fork.
Top with sauce every 10 minutes while cooking.