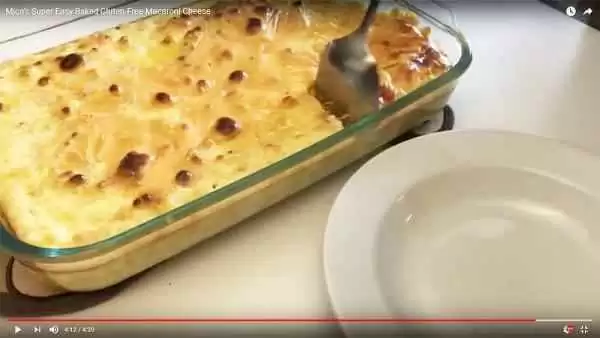 Celiac.com 06/07/2018 - Mica is off for the Summer and wants to share her super easy oven baked gluten-free mac-n-cheese recipe.
This recipe is pure comfort food that will make almost anybody happy!
---
Celiac.com Sponsor (A12):


---
---
Celiac.com Sponsor (A12-m):


---
Below is the recipe, and here is the video version:

Ingredients:
1 pound uncooked gluten-free macaroni (use Schar penne)
4 eggs
3 cups (2 cans) evaporated milk
2 cups water
2 tablespoons butter, melted
⅓ pound shredded American cheese
⅓ pound shredded cheddar cheese
⅓ pound shredded Monterey Jack cheese
2 teaspoons gluten-free mustard
1 teaspoon salt
½ teaspoon ground white pepper

Directions:
Heat the oven to 350 degrees F (175 degrees C).

In a large shallow baking dish, toss

Mix uncooked macaroni and melted butter together, making sure the macaroni and the inside of the dish are both thoroughly coated. Add cheese, and stir until evenly mixed.

In a medium bowl, mix the evaporated milk, water, eggs, mustard powder, salt, and white pepper.

Pour over the macaroni, and bake uncovered for 45 minutes, or until it is firm in the middle.

Remove from the oven, and let cool for 5-10 minutes before serving.