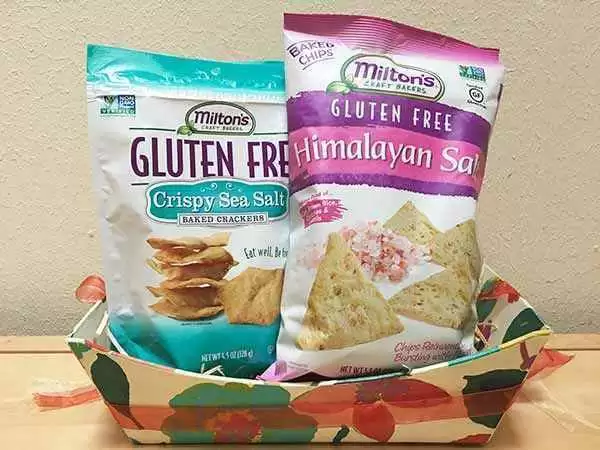 Did you know that Milton's Craft Bakers makes an outstanding line of gluten-free chips and crackers? I didn't, but was recently lucky enough to get to try out their Gluten-Free Himalayan Salt Baked Chips and their Gluten-Free Crispy Sea Salt Crackers.
What really stood out about each of these wonderful gluten-free snacks was their lightness—since both are perfectly baked instead of fried, they tasted light, healthy, and very crunchy. The Crispy Sea Salt Crackers were perfect for dipping. I tried them with a jalapeno and artichoke dip, and they were wonderful, and I also had them with a sharp cheddar cheese on top. They seem to go great with everything, and are made with multiple grains including millet, brown rice, gluten-free oats, and corn.
---
Celiac.com Sponsor (A12):


---
---
Celiac.com Sponsor (A12-m):


---
Likewise, the Himalayan Salt Baked Chips were similarly versatile, and were far lighter tasting than regular tortilla chips. Besides being gluten-free, the chips are also free of dairy, nut, soy, and eggs, and are made with corn, brown rice, lentils, and chick peas. Both snacks are non-GMO, Kosher, and don't contain any cholesterol.

These outstanding snacks are a perfect addition to any party or event, or just to have as a snack on your own. They are gluten-free, but those who are not on a gluten-free diet will never notice this. Milton's Craft Bakers has done a great job making these wholesome, gluten-free snacks.

Visit their site for more info.