Caption: Gluten-free Memorial Day (photo courtesy of Beverly & Pack)
Memorial Day is fast approaching. Once known as, "Decoration Day", Memorial Day commemorates the men and women who have died while serving their Country during military service. Not only is Memorial Day a day of remembrance, it is also a day to spend quality time with your family and loved ones. Most Memorial Day activities center around a picnic, BBQ, or sporting events, so get ready to have a gluten-free Memorial Day!
If you are gluten sensitive, you will want to make sure your are included in the festivities by preparing gluten-free foods you can eat and share with others. Many of your favorite picnic and BBQ foods are naturally gluten-free, but the condiments and preparation of the dish is what can render your meal inedible. Remember to use gluten-free sauces for your marinades, and avoid using condiments that have been dipped into by gluten laden utensils, as cross contaminates are readily found in jars of mayonnaise and mustard. Keep yourself safe this year and make sure to have your own condiments when going to a group event. Many gluten sensitive people use squeeze tops for their condiments to avoid the proverbial "gluten contaminated knife in the condiments" routine. Included are some Memorial Day tips and recipes, but with a gluten-free twist.

Gluten-Free Citrus Tarragon Chicken Kabobs
1 lemon, zested, then juiced, remainder discarded
1 orange zested, then Juiced, remainder discarded
1 lime, zested, then juiced, remainder discarded
4 cloves fresh garlic, minced 
1 tablespoon fresh tarragon leaves
1/4 cup gluten-free soy sauce
1/4 cup olive oil
1/2 teaspoon salt
1/2 teaspoon freshly ground black pepper
1 pound boneless, skinless gluten-free chicken breasts, cut into 1-inch cubes (use free-range, organic chicken without fillers if possible).

Gluten-Free Veggie Kabobs
Bell peppers
Onions
Cherry tomatoes
Mushrooms
Italian squash
Zuchinni
Sweet potato chunks
Tofu

All of the above veggie kabob ideas are optional. Use foods that you like to grill. Make sure your veggies are chunked big enough to hold up well on kabob skewer.

Gluten-Free Balsamic Vinaigrette (for veggie marinade)

1/4 cup olive oil
2 tablespoons balsamic vinegar
salt and pepper to taste

To Make Kabobs:
Thoroughly mix together all of the citrus-tarragon chicken ingredients (except the chicken) in a bowl. Toss the chicken in the mixture until evenly coated. Cover and marinate in refrigerator for 2 hours.
Cut vegetables into bite-size pieces.
Puree balsamic basting vinaigrette ingredients in a blender for 30 seconds.
Grill kabobs directly over heat source for about 10 to 15 minutes, turning 1/4 rotation every 2 to 3 minutes, or until it's cooked throughout.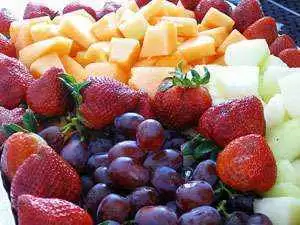 Gluten-Free Salads and Side Dishes:
Salads are always a welcome gluten-free side dish, capable of complimenting any meal. To make your Memorial Day BBQ complete, here are some ideas for gluten-free side dishes. These side-dishes are gluten-free, easy and sure to be crowd pleasers-even for the gluten eating folks.



Gluten-Free Beers:



Greens Gluten-Free Beer
Redbridge Gluten-Free Beer
New Grist Gluten-Free Beer
Gluten-Free desserts are certainly not sparse. Although, finding gluten-free, sugar-free, egg-free, dairy/casein-free, corn-free desserts are a bit trickier. Pecan pie is an all American favorite, and no Memorial Day should be without pecan pie. The following pecan pie recipe is raw, and requires no cooking, and contains almost none of the usual food allergens-unless of course you are allergic to pecans.
Gluten-Free, Dairy/Casein-Free, Egg-Free, Corn-Free, Sugar-Free Pecan Pie
Ingredients:
2 cups raw almonds, soaked and drained
35 pitted dates, soaked for 1 hour and drained
1 tablespoon fresh squeezed lime juice
1/2 teaspoon ground cinnamon
1/2 teaspoon vanilla extract
2 cups raw pecans, soaked and drained
pinch salt
Olive oil, to grease your pan
To Make:


Note: If you are not familiar with the process of soaking nuts, please review the following information before attempting this recipe.


Combine the almonds and 10 of the dates in a food processor, and process until they are coarsely ground and clumping together. Grease the bottom of a 9-inch square brownie pan or a pie plate with a little cold-pressed olive oil to keep the pie from sticking to the plate. Press the almond-and-date mixture evenly into the bottom of brownie pan and up the sides to form a crust. Set aside.
Combine the remaining dates, the fresh lime juice, cinnamon, salt, and vanilla in a blender or small food processor, and process until the mixture has a smooth, uniform consistency. Spread the date filling evenly over the crust. Arrange the raw pecans on top of the date mixture and press lightly. Cut the pie into 2-inch squares and serve.

Gluten-Free  Quick Check:
Use a clean BBQ grill or use aluminum foil
Use gluten-free condiments
Make sure your meat is gluten-free
Avoid cross contamination
Prepare enough gluten-free food to share

Happy Memorial Day!