Image Caption: Photo: CC--TownePost Network
Celiac.com 03/11/2015 - The Gluten Free Expo in Canada is incorporated under gluten-free Events Limited. Since January 2012, and under the guidance of Margaret Dron has held 10 Shows in Canada. It started in a small community centre gymnasium in Vancouver B.C. with just two goals:
"To collect gluten-free food donations so gluten intolerance families needing assistance will never have to choose between eating, or feeling ill. Sadly, due to the higher costs of gluten-free food, this is a category that is not often donated and is needed by Food Banks across Canada.;
To help those living with gluten intolerance to discover new dietary solutions, connect with others in the gluten-free community, and to provide education on living gluten-free the healthy and accessible way.
Following the first Gluten Free Expo, exhibitors and attendees alike asked us to come back again, so we did and continue to do so yearly. We have also expanded across Canada to connect with more members of the gluten-free community.
By the way, donations of gluten-free food are being accepted onsite for the Food Bank. To date, your kind donations raised over 10,000 lbs of food, and enough cash donations to buy another 22,000 worth of gluten-free food for Food Banks across Canada. Donations collected at this show will go to your local food bank."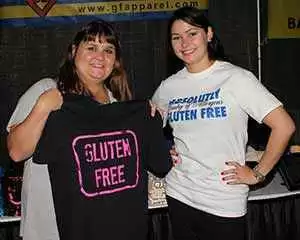 Thousands of people happily paid the online price of $12.00 or the $15.00 cost at the door with children under 10 getting in free when accompanied by an adult. The bronze sponsor of the event in Vancouver was "Enjoy Life Foods"Â and it was presented in part by Udi's Gluten Free and Glutino. Approximately 110 Exhibitors were at the event with samples of their products. (I was so full when my husband and I were finished!) Margaret Dron is very picky about which exhibitors are allowed to display their foods. From what I observed, and the questions I asked, they were made in gluten-free factories, so no other food products were produced there. For the wines and beers she ensured that the 20ppm was complied with. I went home with a free bag full of 3 boxes of Catelli Pasta, Pamela's Cookies, Shortbread, Banana Chips prepared with orange marmalade, crackers of three types; I was already full and I had savings coupons on gluten-free foods from the vendors too. I was disappointed that the new "All But Gluten"Â by Weston Bakeries were not able to make the Western Show. Their gluten-free foods are excellent, particularly the cinnamon raisin bread which I cannot seem to get enough of.
They even had a separate auditorium for GMO (Genetically Modified Foods) which was very interesting, and a little scary too. Speaker choices were also excellent with good titles.
"NAVIGATING LOW FODMAP DIETS (Choices Markets registered Dietician) At first I thought that was spelled wrong with the FODMAP, but it was particularly interesting for those with gluten intolerance and continued digestive symptoms. The Elimination Diet was explained at length,. EATING FOR ENERGY with Patrician Chuev, Registered Die titian and published author. As a 6 time published author and living with Celiac Disease herself she knows intimately the challenges of fuelling a busy gluten-free lifestyle and she shared her strategies for achieving a healthy state. Inspiring!
In the afternoon on Saturday we had Essential Gluten-Free Alternatives and Superfoods with Adam Hart, Nutritional Researcher and best selling author. That was a 30 minute presentation , some of the information from his book "The Power of Food"Â. Must admit Adam did go on about discovering today's top gluten-free alternatives and I was a little negative about that to start with, even for the gluten sensitive.
Finally UNDERSTANDING CAUSES OF INFLAMMATION IN THE G.I. TRACT WITH Dr. Wangen, N.D. He is Medical Director of the IBS Treatment Centre and award winning author of "Healthier Without Wheat"Â It was too bad that this well-known man was scheduled for 3:00 p.m. because he explored the digestive tract and the causes of inflammation in the GI. Tract and the importance of the ecosystem that is contained there, and how to keep it all happy.
* I was quite full by that time and you must admit the subject of the gastro--intestinal tract at that time of the day, with a full stomach is not very appetizing.
Some of the smaller companies were just in the Lower Mainland area, wanting to make an input into the U.S. market but weren't quite there yet. Others, like Udi's and Glutino, Pamela's and Enjoy Life Foods you will know quite well in the U.S.A.
The NEXT Gluten Free Expo will be in Calgary on May 2 and 3rd, 2015, 19:00 a.m. to 5:00 p.m. Tickets available online for $12.00 [Visa or Mastercard) at the door $15.00 cash only, with children under 10 free. Too bad the Calgary Stampede is July 3rd to the 12th or you could do a cross-border holiday with the Canadian Dollar being so low.
The U.S.A. Gluten Free and Allergen Friendly Expo
The U.S.A. Gluten Free and Allergen Friendly Expo (unrelated to the Canadian - http://gfafexpo.com/) is the biggest gluten-free and allergen friendly event in the U.S., "Whether you're looking for specialty products that taste great or trying to learn how to cook and bake to meet your dietary needs the Expo is the place to be!"Â 
The 2015 Gluten Free and Allergen Friendly Expo Locations for this year are:
April 18, 2015 Atlanta, GA
May 2,3 2015 -Chicago IL
July 25, 2015 - Worcester MA
October 3-4, 2015, Secaucus, NJ 
Dallas, TX, - October 17, 18 2015
States in their literature: "The Gluten Free & Allergen Friendly Expo is dedicated to meeting the needs of the celiac community. Those with gluten and food sensitivities, auto-immune/inflammatory disease and autism. The public is helped through vendor exposition, educational sessions, and online resources. The manufacturers are serviced through vendor expositions, marketing programs and consultative services."Â Sounds good!
Does not list the cost or hours, but it does say "Get Expo Tickets Now!"Â But it also has educational sessions and indicates "food sensitivities"Â, auto-immune inflammatory disease and autism which makes my ears prick up!