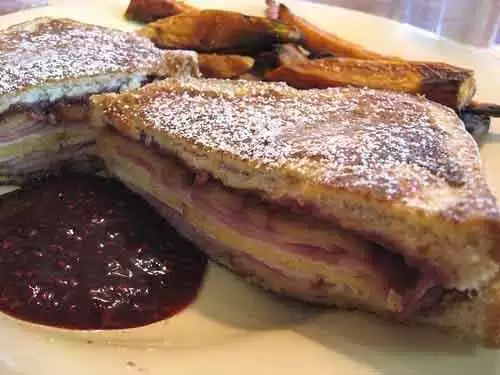 Caption: Gluten-Free Monte Cristo Sandwich (photo coutesy of kimberlykv)
Traditionally a French recipe, this gluten-free recipe can be eaten for breakfast, lunch, dinner or as a finger food for any event. The yummy possibilities are endless. Baking time is 30 minutes, but preparation time is very minimal, and the results are so worth it!
Ingredients

2 cups gluten-free pancake mix
½  cup butter
2/3 cup + 2 tablespoons Milk
2 cups mozzarella cheese - shredded
12 slices gluten-free ham - thinly sliced 
12 slices gluten-free turkey - thinly sliced 
3/4  cup strawberry fruit spread (or fruit spread of your choice)
1/4 cup powdered sugar - to sprinkle on top

Directions:
Heat oven to 375 degrees F.
Lightly grease an 8-by-8-inch square baking dish.
Mix the pancake mix and the butter with a fork until the mixture resembles coarse crumbs, add the milk, and stir with a fork.
Put half the mixture in the bottom of your baking pan, then sprinkle on 1 cup mozzarella, 1/2 of the thinly sliced ham, then 1/2 of the thinly sliced turkey.
Spread strawberry fruit spread on top spreading to within 1/2 inch of the edge, then layer the last half of the ham, then the last half of the turkey, then sprinkle on 1 cup mozzarella.
Spread the rest of the baking mix on top, and bake for 30 minutes.
When nicely browned remove from the oven and sprinkle with powdered sugar.
Allow to sit for 5 to 10 minutes before cutting and serving.
Cut into wedges and enjoy.