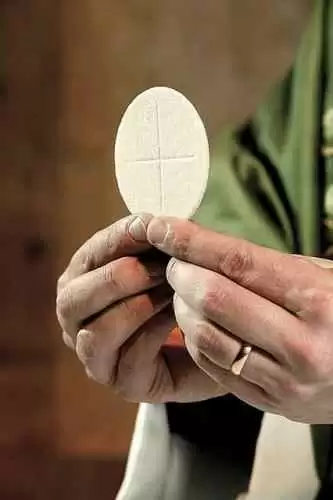 Caption: Photo: CC--York Minister
Celiac.com 06/11/2012 - For many religious individuals, eating sacramental bread at the altar to commemorate the Last Supper of Jesus Christ is a cornerstone of religious practice.
Until very recently, nearly every church version of the Eucharist, the holy consumption of bread and wine to honor the body and blood of Christ, featured standard bread or communion wafers that contained gluten. The problem for many with gluten intolerance or celiac disease, is that the only known treatment is to avoid foods containing gluten. That includes bread, pasta, cakes, pizza dough, lunch meat, beer, as well as the bread for the Eucharist.

However, with celiac disease and gluten-intolerance on the rise, and with awareness of both of these condition also on the rise, many churches are moving to make accommodations for these people.

Led by a few churches at the vanguard, more and more churches are making moves to accommodate the growing numbers of people with gluten-intolerance by offering gluten-free variations on the traditional loaf of bread or communion wafer.

"It's another way we can welcome people to the table," said Glenn Catley, senior pastor of Asbury United Methodist Church in Salisbury, UK.

The church's annual meeting has offered a gluten-free bread for years, he said. But it wasn't until about a year ago that the church began doing the same during its Communion.

In addition to the wheat or pita bread available at most of the serving stations, parishioners may also opt for rice cakes. Dietary accommodation is something of a tradition in the Methodist church, Catley noted.

Among Protestants, offering gluten-free bread for communion seems to pose little, if any, religious consternation, the bread and the wine merely represent the body and blood of Christ.

To Roman Catholics, however, who believe that the bread and wine, with the priest's blessing, are actually transformed into the savior's body and blood, the adoption of completely gluten-free offerings has caused issues.

That is because church doctrine requires bread made from unleavened wheat, as they believe Jesus used at the Last Supper.

Even though church advocates downplay any controversy, and note that parishioners may still receive the full sacrament by drinking the wine, efforts are being made to provide a full sacrament to those with celiac disease or gluten-intolerance.

To that end, nuns at the Benedictine Sisters of Perpetual Adoration in Clyde, Missouri have created an extremely low-gluten wafer that is now being offered by numerous Catholic churches.

Source: