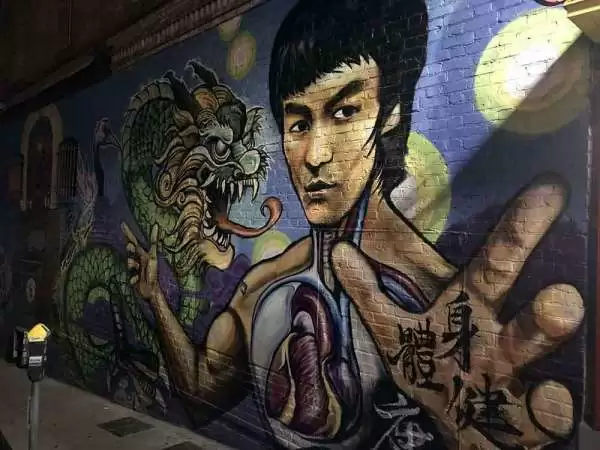 Caption: Bruce Lee with a big heart. Chinatown San Francisco. Image: Scott Adams
Celiac.com 04/20/2020 - From 2005 to 2014, hospitals recorded a sharp rise in the numbers of celiac disease patients admitted for acute myocardial infarction (AMI), according to researcher presenting at the ACC.20 World Congress of Cardiology. 
A team of researchers recently set out to review the Nationwide Inpatient Sample for adults with AMI as a primary diagnosis, and celiac disease as a secondary diagnosis, between 2005-2014. The research team included Manish Gupta, Muhammad Umair Bakhsh and Kamesh Gupta. They are variously affiliated with the Danbury Hospital, Danbury, CT, USA, and the Baystate Medical Center in Springfield, MA, USA. 
---
Celiac.com Sponsor (A12):


---
---
Celiac.com Sponsor (A12-m):


---
The team identified nearly 6.2 million AMI hospitalizations, of which 3,169 also had a diagnosis for celiac disease. Using survey regression, the researchers figured adjusted odds ratios (aOR) for hospital mortality, and other outcomes. The data showed that the rate of AMI-related hospitalization of celiac patients rose from 0.015% in 2005 to 0.076% in 2014. 

The results showed that celiac+AMI patients tended to be a few years older, on average, and substantially more likely to be female. After adjusting for age, gender, race, Charlson Comorbidity index and hospital level characteristics, the researchers observed that celiac+AMI hospitalizations had a lower odds-ratio for hospital mortality. 

Also, the results showed a slightly shorter length of stay for celiac+AMI patients, but much higher average hospitalization charges of just over $64,058 for celiacs, compared just over $60,000 for non-celiac AMI patients.  

The data show that the number of celiac disease patients admitted for acute myocardial infarction (AMI) rose five times from 2005 to 2014, yet, for unknown reasons, the rates of in-hospital mortality is lower for these patients than in patients without celiac disease. 

The study shows that even though inflammation seems to be causing more AMI hospitalizations in people with celiac disease, celiac patients seem to fare better than non-celiacs.

This study illustrates very clearly some of the higher costs, both physically and monetarily, of having celiac disease. Celiacs see more hospital admissions for AMI-related issues, and it costs them more money, even though their stay is usually a bit shorter. The fact that their odds of dying as a result are lower is just one small consolation.

Have you or a loved one been treated for an AMI-related heart condition? Do you have celiac disease? Share your thoughts below.

Read more in the Journal of the American College of Cardiology. Volume 75, Issue 11 Supplement 2, March 2020

Read more at Openwirenews.com