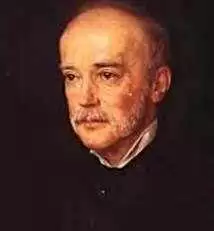 Caption: Portrait of Samuel Gee. Artist: Charles Vigor - circa 1900
Celiac.com 09/13/2010 - Happy National Celiac Disease Awareness Day! Here at Celiac.com we sometimes forget this special day because to us every day is Celiac Awareness Day!
For those who don't know, each September 13th is the official "National Celiac Disease Awareness Day" due to United States Senate Resolution (S.Res. 563), which was adopted in 2006.
Celiac.com hereby proclaims that forthwith on this day EVERYONE should eat gluten-free—and everyone should also be sure to hug a celiac! Oh, and don't forget to give thanks to Dr. Gee before eating that gluten-free food—after all, if it weren't for him we would probably all be pretty miserable right now!
More information about Dr. Samuel Gee can be found at:

Source: