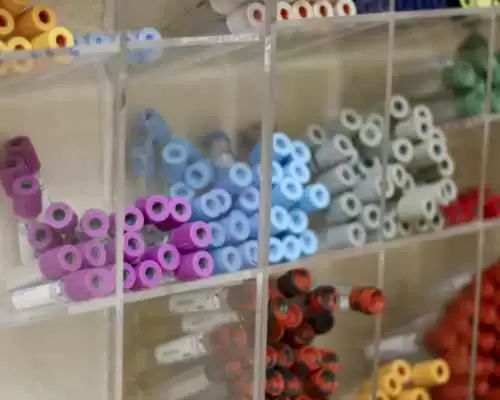 Caption: Can a blood test change the way we diagnose celiac disease? Photo: CC--Keepingtime_CA
Celiac.com 08/28/2017 - After 14-day gluten challenge, an HLA-DQ-gluten tetramer blood test provides better detection of celiac disease than biopsy. Can that lead to new disease detection methods in patients who are already on a gluten-free diet?
Doctors attempting to diagnose celiac disease are often confronted by patients who have already given up gluten. For such patients, diagnostic guidelines currently call for a gluten challenge of at least 14 days, followed by duodenal biopsy. There isn't much good data on how many false-positive results are generated by this method. To get a better picture, a team of researchers recently studied responses to 14-day gluten challenge in subjects with treated celiac disease.
The research team took a group of 20 patients with biopsy-verified celiac disease, all in confirmed mucosal remission, and presented them with a dietary gluten challenge of 5.7 grams per oral gluten per day for 14 days, then conducted duodenal biopsies. They analyzed blood by multiplex assay for cytokine detection, and by flow cytometry using HLA-DQ:gluten tetramers.
Nineteen of the twenty participants completed the challenge. Biopsy results showed villous blunting in 5 of those 19 patients. Villous height to crypt depth ratio reduced with at least 0.4 concomitantly with an increase in intraepithelial lymphocyte count of at least 50% in 9 of the 19 patients. Interleukin-8 plasma concentration increased by more than 100% after 4 hours in 7 of 19 subjects. Frequency of blood CD4+effector-memory gut-homing HLA-DQ:gluten tetramer-binding T cells increased by more than 100% on day 6 in 12 of 15 evaluated participants.
For most celiac patients, a 14-day gluten challenge did not result in sufficient mucosal architectural changes for clear diagnosis (sensitivity ≈25%–50%).
The team found that an increase in CD4+ effector-memory gut-homing HLA-DQ:gluten tetramer-binding T cells in blood 6 days after gluten challenge is a more sensitive and less invasive biomarker for celiac disease.
The team is calling for further study. Being able to diagnose celiac disease without biopsy could really help to improve the entire diagnostic process, and could easily lead to an increase in diagnosis.
Source: