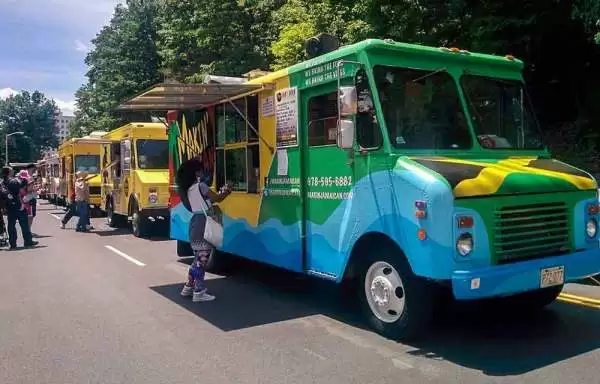 Caption: Image: CC BY 2.0--meccameg
Celiac.com 09/04/2019 - There's often a good deal of stigma and sometimes logistical difficulty attached to getting meal assistance from food banks and soup kitchens. What if people who need food and meal assistance could get help that looked less like the familiar food pantries and soup kitchens, and more like the trendy food delivery services and pop-up eateries favored by the young and hip? 
Traditional food banks typically offer canned or shelf-stable foods, or serve as working soup kitchens. However, technology is changing the way Americans eat, from fresher foods, to custom food delivery, to pop-up kitchens. More and more, food banks are building, or partnering with, commercial kitchens to produce prepared food and finished meals.
Imagine gluten-free, vegetarian, vegan, or keto, in addition to other foods prepared with love. Think take-out and delivery, like Grubhub and DoorDash and Uber Eats.
Many food assistance services are now asking the question: "How do we get food to homes in a different way?" said Thomas Mantz, the executive director of Feeding Tampa Bay. "For some, it will be a banana box filled with food, for others it will be a bag of groceries, for some it will be a sit-down meal, for some it will be a take-home meal and, eventually, it will be food delivery."
Feeding Tampa Bay tested a program over the summer that used roadside signs to reach potentially hungry citizens. Planted in low-income neighborhoods, the signs read: "If you need a free meal, text this number." 
People who signed up were directed to the time and place to pick up meals from the organization's food truck. The first effort netted 50 sign-ups, with 30 people showing up to collect meals at the Feeding Tampa Bay food truck. The second time, they saw 80 sign-up, with 60 people picking up meals. The last time, over 100 people signed up and nearly 70 picked up meals. 
A survey of food recipients showed that more than half would never go to a food bank, because it conflicts with their self-image. The survey also showed that most people who need food assistance need it now, not later. They don't need a box for the week, they need a meal now.
Feeding Tampa Bay will try another pilot program with Trinity Cafe, a long-standing free restaurant in Tampa. 
"We've tested the model, and it works," Mantz said. "We've had a theory that working families are the ones really struggling and who would want this. Most of these folks are part of our economy, they have jobs and homes. They're us. They want to consume food in the same ways, and they want it to be a dignified process."
Feeding Tampa Bay is testing food pantries in schools, and hopes to offer prepared meals for recipients to take home. The organization is also looking to put food pantries in hospitals. The hospital pantries will offer prepared takeaway meals aimed at specific health concerns and dietary restrictions, such as gluten-free, low-carb, kosher, vegan, vegetarian, and more.
Read more at sfgate.com