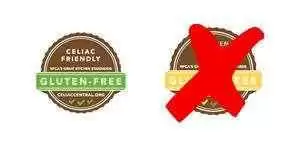 Celiac.com 05/23/2012 - In April 2012, the National Foundation for Celiac Awareness debuted its Tiered Credentialing system, whereby restaurants can be awarded varying levels of a gluten-free designation. The system has spawned much controversy, as many sufferers of celiac disease argue that there should be no flexibility with the gluten-free term. Many argue that a food either contains gluten, or it does not: leading people to believe gluten-contaminated products are gluten-free could be harmful to celiacs.

The issue came to a head when the NFCA awarded Domino's 'gluten-free pizza with an 'amber' gluten-free designation. The controversy is in the preparation: while Domino's may use gluten-free ingredients to make the crust, no extra effort is put forth to avoid contamination (hence, their 'amber' credential rather than 'green', which would be awarded to restaurants who take more care to avoid gluten contamination). Such contamination is almost assured given the volume of gluten flour present in a typical pizza restaurant kitchen, so many have argued that an 'amber' designation is really only useful to people who are gluten-conscious, but do not suffer from any form of gluten sensitivity. 
Domino's or the NFCA might argue that their crust was never intended for those with celiac disease, and that the 'amber' designation indicates that, but as Dr. Steven Guanalini, president of NASSCD argues,"there should be no need for disclaimers. The threshold has to be set at the same level for everybody for the term gluten-free to be meaninful."
In what may be viewed as something of a victory for the celiac community, the NFCA announced that in response to overwhelming public pressure, it is suspending use of its "amber" credential. According to their press release, they will "conduct a review to determine the most effective and clearest way to warn the community of the risk of cross-contamination and the use of the phrase 'Gluten Free'". It is still unclear what this means for Domino's.
Sources: