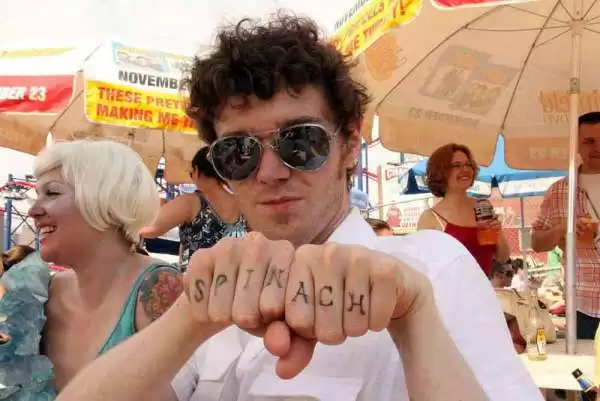 Caption: Hipster Popeye's hand tattoo. Image: CC BY-SA 2.0--MattHurst
Celiac.com 12/17/2019 - People with celiac disease must eat a gluten-free diet to maintain good health, but many other folks also follow a gluten-free diet for non-medical reasons.
Whatever the reason, from restaurateurs poking fun, to friends and relatives making silly quips, gluten-free dieters are no strangers to incorrect, silly, or stereotyped views of their diet.
---
Celiac.com Sponsor (A12):


---
---
Celiac.com Sponsor (A12-m):


---
Turns out that the stereotype of gluten-free dieters as coastal left-wing elites is a bit off the mark. In fact, it turns out that Trump supporters are more likely to be gluten-free than any of those tree-hugging hipsters.

How do we know this? Researchers Trey Malone, assistant professor in the department of agricultural, food and resource economics at Michigan State University, and Bailey Norwood of Oklahoma State University set out to examine the relationship between political affiliation and dietary habits using gluten as a model. 

Their findings suggest that not only does gluten sensitivity impact "people of all political persuasions," but that the cliché of the politically correct, gluten-intolerant, "West Coast liberal" has no merit.

Their article in the journal Agriculture and Human Values reveals that gluten-sensitivity is not just a liberal thing, as some would have us believe, if only in jest. 

Turns out that the search for good gluten-free bread, pizza, cookies and sandwich bread has numerous adherents divided in both political camps. 

However, when their team broke down the results according to presidential political choice over the last few decades, Trump supporters were "the most likely to identify as gluten avoidant," according to Malone.

Read more about Malone and Norwood's study of how the political views of 1,000 American consumers are reflected in food choices in the Agriculture and Human Values.