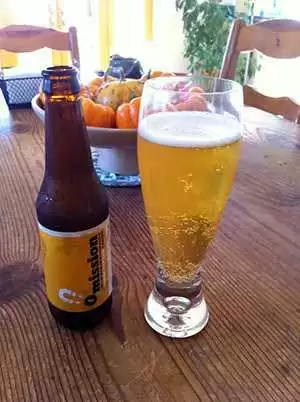 During college I spent a year and a half living and studying in Tuebingen, Germany. This was before my diagnosis with celiac disease, and it was there that I really learned to know and love beer. After my diagnosis, and around the time I founded this Web site, I spent around two years trying to perfect a gluten-free beer made of sorghum and rice malts. I got close, but it never tasted quite right.
The same can be said of many of the gluten-free beers that are made without using barley, which, according to Germany's 1516 "Reinheitgebot," or German Beer Purity Law, can't even be called "beer" in Germany.
---
Celiac.com Sponsor (A12):


---
---
Celiac.com Sponsor (A12-m):


---
Omission Handcrafted Lager Beer, on the other hand, can be called real beer in Germany, as it is made using only traditional beer ingredients: malted barely, hops, yeast and water. How could it be safe for celiacs you ask? Because it is made using a process that removes the harmful gluten to below 10 ppm, and each batch is tested using an independent lab (utilizing the R5 Competitive ELISA test).

So now, thanks to Omission Beer, I can once again enjoy the flavor of a real German-style beer. This wonderful lager beer stands on its own against any other great lager beer, and even those who are not gluten-free wouldn't notice that it was "different."

Visit their site for more info: omissionbeer.com.

 

 

Note: Articles that appear in the "Gluten-Free Food Reviews" section of this site are paid advertisements. For more information about this see our Advertising Page.