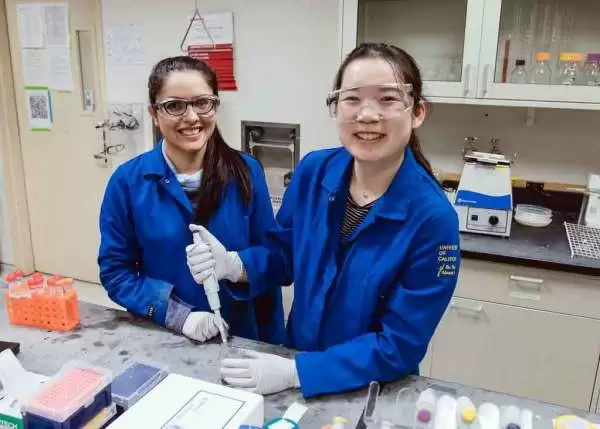 Caption: Image: CC BY 2.0-- UC Davis College of Engineering
Celiac.com 09/24/2020 - Celiac disease is an autoimmune condition in which eating wheat, rye, or barley triggers an adverse immune reaction in the gut. Celiac disease affects about one percent of the population. Diagnosis can be a long and arduous process. In the United States, the average person with celiac disease can wait up to ten years from the time of first symptoms to diagnosis. Left undiagnosed, autoimmune disease can cause organ damage and bowel cancer.
Anyone who has ever had to suffer through a long, convoluted process to get their celiac disease diagnosis can now rejoice for any new celiacs going forward. That's because researchers have developed a single blood test that can diagnose celiac disease without biopsy. Until now, the "gold standard" for celiac diagnosis was the duodenal biopsy, which is normally performed by a gastroenterologist in the days or weeks after a positive blood test, during which time the patient needs to keep consuming gluten. However, nearly half of patients did not need to undergo a more risky biopsy procedure at all.
---
Celiac.com Sponsor (A12):


---
---
Celiac.com Sponsor (A12-m):


---
This data, coupled with the need to catch up with a backlog of endoscopies created during the Covid-19 pandemic, has provoked a change in guidance from the British Society of Gastroenterology and The National Institute for Health and Care Excellence (NICE). An upcoming report by British researchers for the leading gastroenterology journal Gut, shows that the standard tTG blood test alone is 95 percent accurate for diagnosing celiac disease.

Trials show the tTG blood test to be 95 percent sensitive (meaning it detects celiac disease 95 times out of 100), and 95 percent specific (meaning it gives a false positive result just 5 times out of 100). The test measures blood levels of anti-transglutaminase antibodies, or tTG2, which are higher in people with celiac disease. 

TTG2 proteins are among the proteins trigger the immune reaction the causes inflammation when celiac eat wheat, rye, or barley. Celiacs have hundreds times more tTG proteins than non-celiacs.

Being able to diagnose celiac disease quickly and accurately, via blood test alone, is a huge game-changer for celiac patients. Tens of thousands of people with suspected celiac disease can now get a diagnosis with a simple blood test, sparing them from the more risky biopsy procedure.

Not only will many be spared the prolonged side-effects, and invasive, drawn-out diagnosis, they will also be spared the long-term damage that come with undiagnosed celiac disease.

Read more at DailyMail, news-medical.net, and bmj.com.