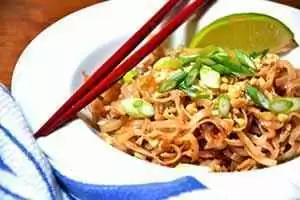 Pad Thai is the perfect Asian dish to make when you want to add a slightly spicy and tangy taste to your dinner.
Gluten-Free, Dairy-Free and Vegetarian

---
Celiac.com Sponsor (A12):


---
---
Celiac.com Sponsor (A12-m):


---
Serves 4

Ingredients:
4 Tbsp. organic almond butter
1 Tbsp. honey
1/3 cup San J gluten free soy sauce
1/3 cup freshly squeezed orange juice
1/2 tsp. red pepper flakes
1 small sweet onion, chopped
1 clove garlic, minced
2 Tbsp. sesame oil
1 tsp. chili powder
2 cups bean sprouts
8 oz.  rice noodles
1 small bunch scallions, chopped
1 tsp. fresh ginger, grated
2 Tbsp. ground flax seeds
1 Tbsp. cashews, crushed
1/6 tsp. orange zest
1 Tbsp. fresh basil, finely chopped
Lime wedges, for serving
Directions:
Prepare rice noodles, drain and set aside.
In a medium sized mixing bowl combine almond butter, honey, gluten free soy sauce, orange juice, and red pepper flakes. Set aside.
In wok, stir fry garlic in 1 Tbsp. oil for 1 minute or until lightly browned.  Add remaining oil and onions; cook for another 2 minutes.
Add peanut butter mixture, chili powder, bean sprouts, and noodles.  Continue to mix until sauce thickens.
Transfer to serving dishes.
Serve warm with a sprinkle of fresh ginger, scallions, ground flax seeds, cashews, orange zest and fresh basil.  Garnish with lime wedges.
Enjoy.