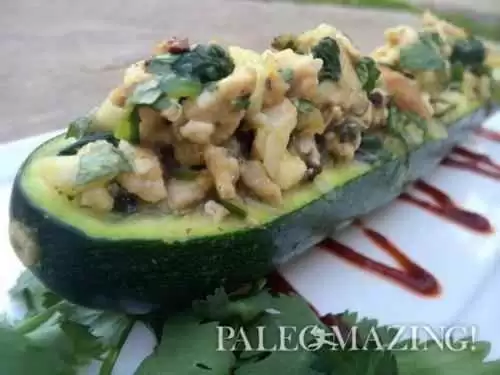 Celiac.com 06/07/2016 - Where are all my Mexican food lovers? This one is especially for you. These Mexican stuffed zucchini boats are a perfect gluten-free party dish. You can cut them up into smaller pieces and serve them as a tray snack that is nutritious and protein packed. I don't know about you but I love when I go to a party and there are plates of healthy items to snack on. I never feel good filling up on just potato chips and veggie sticks. Junk food makes you feel pretty junky.
I really enjoy hosting get togethers at my house. Since I am a mom of three "kids" and am a grandmother as well, I tend to have a full house and like to make healthy gluten-free and sugar-free snacks and meals for my friends and family. No matter how old your kids get, they still always love coming over for a homemade meal. My youngest son is a mexican food "junkie" and really likes this recipe even though it is grain-free as well. He doesn't mind at all giving up the corn tacos. You can change the heat level to whatever you desire too. As always, my recipes are for you to enjoy and alter for whatever suits your taste and likes.
---
Celiac.com Sponsor (A12):


---
---
Celiac.com Sponsor (A12-m):


---
Ingredients:
4 large organic green zucchinis
½ pound ground free-range turkey, chicken or grass-fed beef
4 slices Canadian bacon
½ small white onion, chopped fine
½ cup Salsa Verde (no preservatives)
1-1/4 cup chopped cilantro
3 tablespoons coconut oil or olive oil
1-2 tablespoons chili powder
1 tablespoon tabasco sauce (or to taste)
1 teaspoon salt or to taste
1 teaspoon pepper or to taste
Optional: Grass-fed cheese
Directions:
1. Preheat the oven to 400F.
2. Cut each zucchini lengthwise down the middle, to make 2 halves from each.
3. Take an apple corer and remove the inside, but be careful not to cut into the dark green. Leave about â…› inch on sides and bottom. This will be your "boat".
4. Take the zucchini pulp and chop semi fine.
5. Heat 1 tablespoon oil on medium until hot.
6. Add the onion and cook until semi-glossy then add the zucchini pulp and saute for 1 minute. You may add some tabasco at this point if you like spicy or hot.
7. Transfer to a deep bowl.
8. Add 1 tablespoon of oil to the same pan and heat oil on medium.
9. Add ground meat and cook until done.
10. Add to bowl with onions and zucchini.
11. Drain all but 1 tablespoon of the juices and oils and sauté Canadian bacon in same pan until slightly browned.
12. Remove bacon to cutting board - slice into small slices.
13. Add to same bowl.
14. Add Salsa Verde, cilantro, chili powder, Tabasco and salt and pepper to taste.
15. You may add shredded cheese at this point if you desire.
16. Mix all ingredients.
17. Stuff the boats with the mixture and pile them nice and high, then stack them close to one another in a baking dish so they stand upright.
18. Cover with tin foil.
19. Bake for 30 minutes.
20. Remove and let sit still while covered for 5 minutes.
21. If you have extra meat mixture, you may heat the leftover meat as well in the oven.
22. You may serve a little extra protein on the side of each boat with a garnish of cilantro and a touch of hot sauce.
23. Enjoy!