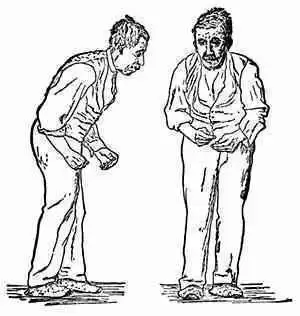 Caption: Image: Wikimedia Commons.
Celiac.com 09/29/2014 - Can a gluten-free diet lead to dramatic improvement of Parkinsonian symptoms in patients with celiac disease?

In the January issue of the the Journal of Neurology, researchers Vincenzo Di Lazzaro, Fioravante Capone, Giovanni Cammarota, Daniela Di Giuda, and Federico Ranieri report on the case of a man who saw a dramatic improvement of Parkinsonian symptoms after gluten-free diet.
This case is interesting because it supports a growing body of research that indicates that, in some cases, gluten toxicity might adversely impact the nervous system, producing symptoms identical to classical Parkinson's disease.
The man in question was a 75-year-old Parkinson's disease patient with silent celiac disease saw major improvements in his symptoms after a 3-month long gluten-free diet.
Noting the positive results in this patient, and the fact that celiac disease often manifests with only neurological symptoms, even in older patients, the researchers are calling for a deeper exploration to determine if there are higher rates of celiac disease in people afflicted with Parkinson's disease, or the related multi-factorial neurodegenerative condition known as Parkinsonism.
Source: