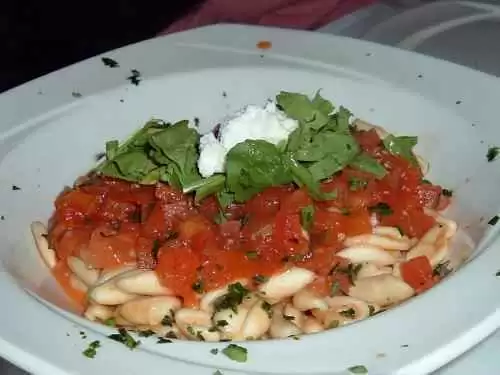 Caption: Photo: CC/Glen Edelson
Traditional pasta sauce is naturally gluten-free. Although finding a safe gluten-free pasta sauce is work, and finding a sugar-free, gluten-free pasta sauce is virtually impossible. That is why the following recipe is so great. Not only is this homemadepasta sauce recipe easy and quick, it is also healthy and gluten-free.  Please remember to use all gluten-free spices and ingredients and to check with the manufacturer if you aren't sure.

Pasta Sauce (Gluten-Free)
Preparation: 5-10 minutes
Cooking Time: 10-15 minutes
---
Celiac.com Sponsor (A12):


---
---
Celiac.com Sponsor (A12-m):


---
Ingredients:
½ cup of water
¼ teaspoon black pepper
1 stalk of chopped celery
1 chopped onion
½ teaspoon basil
2 tablespoon chopped parsley
½ chopped green bell pepper
1 tablespoon olive oil
1 (6) ounce can tomato

paste

1 (8) ounce can tomato

sauce

1/2 teaspoon thyme
1 teaspoon oregano
½ teaspoon himalayan salt, or to taste
dash cayenne red pepper
Note:

The canned tomato paste and sauce can be substituted for the equivalent amount of homemade paste or sauce. Also, as always if certain ingredients don't agree with you, leave them out or substitute them for things you like. I know many people like bell peppers so I kept them in the recipe, however I substitute bell peppers for sauteed mushrooms; and I am not big on onions, so I use half an onion to taste.

Directions:

Combine the garlic, onion, green pepper & celery in a large skillet.
Add the 1 tablespoon  olive oil and saute' until soft.
Once the ingredients become soft, add any ingredients that are left.
Stir well. After covering, simmer for up to 7 minutes.
Stir again and simmer another 2-3 minutes.
Serve with your favorite gluten-free pasta and  have yourself a healthy, gluten-free pasta dish.
Top with feta, basil, or toppings of your choice and enjoy!