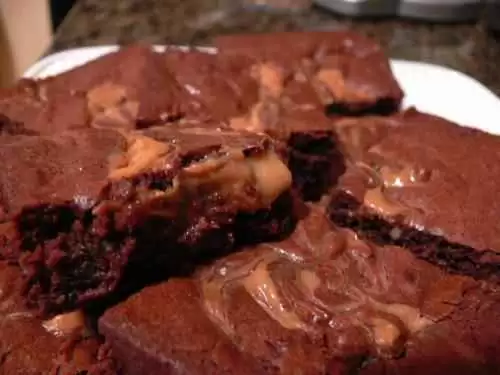 Caption: Gluten-Free caramel pecan brownies (photo courtesy of jessicafm)
This recipe for gluten-free pecan caramel brownies will fool your friends. If you don't tell them, they probably won't know that it's made with gluten-free ingredients. This is a wonderful dessert option, and is perfect for potlucks or  sending to school with your child for a gluten-free treat that they can actually eat.

Gluten-free Brownie Mix Ingredients:

4 ounces gluten-free unsweetened chocolate
12 ounces butter
2 cups sugar
1 cup chopped pecans (toasted-optional)
2 large eggs
1 Tablespoon gluten-free vanilla extract
Directions:
Preheat oven to 325 F degrees. Grease your pan thoroughly and generously with butter.
Melt the butter and the 4 ounces of chocolate together.
Add 2 cups of sugar and mix by hand or fold with a fork.
Beat the eggs and then add to the mixture.
Add the gluten-free flour and the vanilla extract and mix until incorporated.
Pour into prepared pan and bake for 25 minutes. Remove from oven and cool.
Caramel Topping
1/2 cup heavy cream
2 cups sugar
1/2 cup water
4 ounces unsalted butter
1 ¾ teaspoons fine Himalayan salt (or salt preference)
2 tablespoons gelatin

Directions


1) Gently heat cream in saucepan.
2) In a tall pot, place sugar and water. Heat on medium high heat until becomes amber caramel. Do not stir. After about 5 minutes, it will start to turn light brown. Watch it closely now as it will turn amber color very quickly.
3) Add the warm cream, butter and salt. Stir until smooth. Remove from heat and add the gelatin.
4) Immediately pour over the pan of cooled brownies. Place in the refrigerator to set.
5) Cut into squares and serve.

Enjoy!