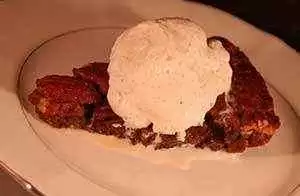 Caption: The finsihed pecan pie!
Press-in Crust recipe
Ingredients:
1 1/2 cups cup Jules Gluten FreeTM All Purpose Flour
1/2 tsp salt
1 tsp gluten-free vanilla extract
1/3 cup extra-virgin olive oil
3 Tbs milk, dairy or non-dairy (vanilla coconut, soy, almond or rice milk)
---
Celiac.com Sponsor (A12):


---
Directions:
Whisk together the flour and salt. Make a well in the middle of the mixture, and pour in the vanilla, oil and milk. Using a fork, stir the liquids into the dry ingredients, forming a crumbly mixture that is wet enough to stick together if you squeeze in your hand. If the mixture is too dry, add milk one teaspoon at a time.

Pour crust mixture into a 9-inch pie pan and press evenly across the bottom and up the sides of the pie pan, working from the center out.

Pie Filling recipe

Ingredients:
3 eggs
¼ cup Jules Gluten FreeTM All Purpose Flour
¼ tsp sea salt
1 cup corn syrup (dark is pictured here, but may use light) or brown rice syrup
¼ cup pure maple syrup
½ cup brown sugar
1/3 cup melted butter or Earth Balance® Buttery Sticks (non-dairy)
1 ¼ cup pecan halves

Directions:
Preheat oven to 400F.

If using a traditional pie crust or the press-in crust, prepare in the pie pan and begin making the filling as follows.  If not using a pie crust, oil the pie plate well and continue with filling instructions below.

Beat the eggs, syrups and melted butter until well-mixed.  Add in the flour and salt, mixing until thoroughly incorporated and quite thick.

Lay the pecan halves on the bottom of the pie plate (on top of crust, if using) so that they cover the entire bottom of the plate.  Gently pour the syrup mixture on top, which causes the pecans to rise through the syrup and be spread throughout the pie.

Bake at 400F for 15 minutes, then reduce heat to 325 F and bake a further 35 minutes.  The pie should be set and not very jiggly at this point.  Remove to cool before cutting and serving.

Serve with ice cream or non-dairy topping, or plain.

Serves 8.