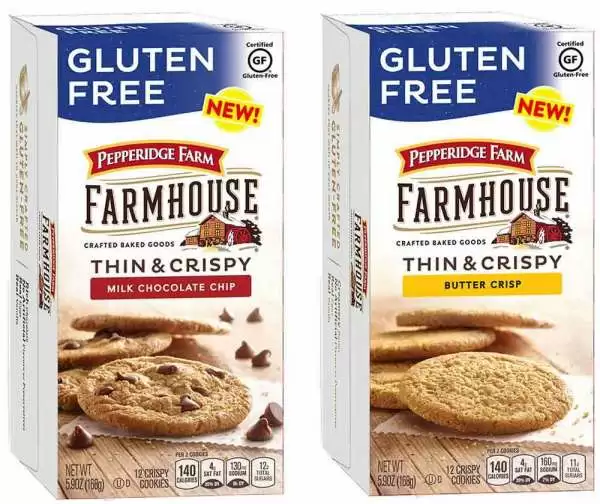 Caption: Image: Pepperidge Farm
Celiac.com 01/18/2020 - Cookie lovers looking for easy-to-find gluten-free cookies from a trusted brand may rejoice in the news that Pepperidge Farm is rolling out gluten-free cookies for the first time in their 80-plus-year history.
This is news especially because of Pepperidge Farm's wide availability. USA Today is reporting that the company's Farmhouse Thin & Crispy Milk Chocolate Chip and Farmhouse Thin & Crispy Butter Crisp will soon be available at major stores across the country, including Albertsons, Publix and Target.
---
Celiac.com Sponsor (A12):


---
It's also news because the roll-out is the first major gluten-free product launch of 2020. Janda Lukin, chief marketing officer for Pepperidge Farm parent company, Campbell's Snacks, told reporters that, over the years, the company "has consistently listened to our consumers and retail partners to understand what are emerging needs, trends and how we can better meet these needs or even improve on them." 

The company also notes that the product will get new packaging, to help consumers distinguish between the two. "We chose a completely different carton to package our Gluten-Free Farmhouse cookies to help distinguish these products from the rest of the Farmhouse cookies that do contain gluten," Lukin said.

Farmhouse Thin & Crispy Milk Chocolate Chip and Farmhouse Thin & Crispy Butter Crisp cookies will be available at a suggested retail price of $3.89 wherever Pepperidge Farm cookies are sold.  Stay tuned for more developments on this and related stories. Also, let us know if you've tried these cookies, or if you're interested in trying them. We are curious ourselves.