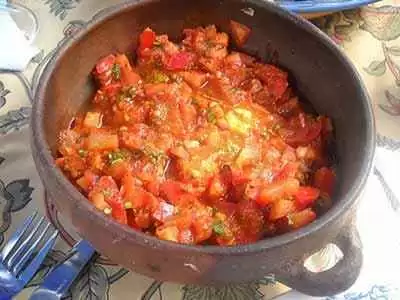 Caption: A bowl of pebre awaits hungry eaters. Photo: CC--oscar cubillos
Celiac.com 11/19/2015 - Pebre is like a Chilean version of what Mexicans call pico de gallo. This mixture of chile peppers, onions, garlic, cilantro, and sometimes tomatoes, can be found on almost any table in Chile. It is commonly served with bread and butter.

Pair this version with your favorite toasted gluten-free bread, and you're in business.
---
Celiac.com Sponsor (A12):


---
---
Celiac.com Sponsor (A12-m):


---
Ingredients:
1 tablespoon red wine vinegar, to taste
2 tablespoons olive oil
1 large onion
1 medium ripe tomato, diced
3 cloves garlic
3 tablespoons red chile pepper paste, to taste OR 2-3 tablespoons finely minced fresh red or green chile peppers
Juice of 1 lime
⅓ cup cilantro leaves, minced
Salt and pepper to taste
Directions:
Chop onions, tomatoes. Mince garlic and peppers. Put ingredients into a bowl and mix. Serve at room temperature.