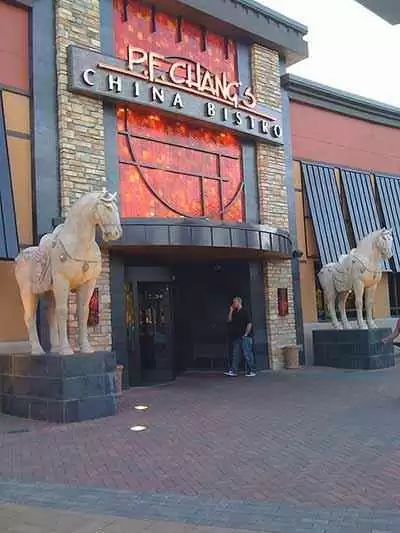 Caption: P.F Chang continues to seek the dismissal of a lawsuit claiming that they discriminate by charging more for gluten-free food. Photo: CC--Mark Crowley
Celiac.com 01/04/2016 - Does P.F. Chang's Asian Bistro discriminate against people with celiac disease by charging more for gluten-free dishes than for their non-gluten-free counterparts? A complaint filed in federal court says it does, and a ruling by a federal judge means that the lawsuit against P.F. Chang's over its gluten-free menu won't be dismissed just yet.
That means a class action lawsuit against P.F. Chang's for allegedly charging more for gluten-free menu items can continue. Judge Ronald Whyte's Nov. 23 order denied the company's motion to dismiss plaintiff Anna Marie Phillips' first amended complaint.
---
Celiac.com Sponsor (A12):


---
---
Celiac.com Sponsor (A12-m):


---
"Neither party has cited, and the court has not found, any case specifically discussing whether celiac disease constitutes a disability under the ADA (Americans with Disabilities Act) or Unruh Act," Whyte wrote in his 13-page ruling. "However, accepting the additional detail in the FAC (first amended complaint) about the consequences of ingesting or being exposed to gluten, which plaintiff must guard against, plaintiff has pled sufficient facts to support her claim that she has a disability that impacts a major life activity.

"The court notes that on a more complete factual record, the court might reach a different conclusion."

Phillips sued P.F. Chang's in a California state court last December. Chang's then successfully moved the case to U.S. District Court for the Northern District of California. Basically, the outcome of the move to dismiss hinges on whether or not celiac disease constitutes a disability under the state's Unruh Act.

In his order last month, Whyte concluded that Phillips, in her new complaint, pled sufficient facts to claim that the immune reaction to eating gluten meets the definition of a "medical condition" under the state's Unruh Act for people with celiac disease.

The law specifically outlaws discrimination based on sex, race, color, religion, ancestry, national origin, age, disability, medical condition, marital status or sexual orientation. In her amended complaint, Phillips also claims that celiac disease is an "inheritable and hence genetic characteristic."

P.F. Chang's argues that the plaintiff must allege that she actually inherited characteristics known to cause disease under the second prong of the "medical condition" definition.

At stake in the lawsuit is whether or not P.F. Chang's, and, by extension, other restaurants can charge more money for gluten-free food than they do for similar, non-gluten-free menu items.

The restaurant chain first moved to dismiss Phillips' class action in February, claiming her celiac disease does not make her a disabled person under the ADA. It urged Whyte to dismiss the lawsuit before the entire restaurant industry was impacted.

Whyte heard oral arguments in May. According to the case's docket, the motion to dismiss was "tentatively granted" at the hearing, with a final ruling to be issued by the court later.

In August, the judge granted P.F. Chang's motion to dismiss Phillips' original complaint. Whyte ruled that the plaintiff failed to allege facts showing that the restaurant chain discriminated against her and other guests with celiac disease or a gluten allergy/intolerance, by charging $1 more for some gluten-free menu items compared to non-gluten-free versions of menu items with a similar name but prepared and handled much differently.

However, Whyte granted Phillips a leave to amend. In doing so, the judge expressed his "reservations" about whether the plaintiff could ever state a viable claim under her discrimination theory. Phillips filed her first amended complaint soon after.

In September, P.F. Chang's filed a motion to dismiss the new complaint, arguing that it asserts the same disability-discrimination claims and offers "few additional facts" and "none that warrant a different result."

But a detailed list of Phillips' symptoms and reactions when ingesting gluten forced the judge to change his mind.

As to whether or not the lawsuit will gain traction, stay tuned.