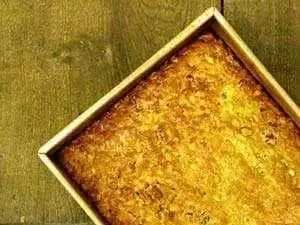 Here's a quick and easy zucchini bread recipe that's gluten-free, sweetened with pine nuts, almonds and dried cranberries. It's tasty to toast for breakfast with a spread of nut butter or served as dessert with a dollop of Greek yogurt and honey.

Gluten-Free and Dairy-Free


Ingredients:
2 cups rice flour
1 1/2 tsp. baking powder
1/2 tsp. baking soda
1/4 tsp. sea salt
1/2 tsp. ground cinnamon
1/4 tsp. all-spice
2 large eggs, beaten
3 large bananas, mashed
3 large zucchini, finely chopped

1 Tbsp. almond extract
1/2 ripe avocado, peeled, pitted and chopped
1/4 cup pine nuts

1/4 cup slivered almonds

1/2 cup dried cranberries, chopped
1/2 cup olive oil
Directions:
Preheat oven to 350F.
Spray a bread pan with nonstick cooking spray set aside.
Steam squash in a large pot until soft and tender.
Meanwhile, combine dry ingredients in a large bowl and then make a well in the center.
Remove zucchini from pot and mash well with a fork.
Add eggs, bananas, squash, avocado and oil to the center and combine them before folding into the rest of the dry ingredients.  Mix well to combine; stir in pine nuts, almonds, dried cranberries and cocoa powder.
Transfer batter into prepared bread pan.
Bake for one hour or until a toothpick inserted in the middle comes out clean. Set aside to cool before serving.